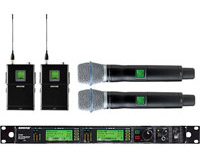 You Always Need a Plan – 2009 RF Part 2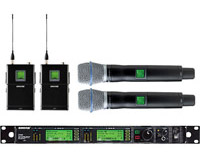 When I last left off, Jayce, Michael, and I had gotten together to discuss the loss of the 700 MHz band for wireless use. Out of our discussion we came up with an idea that we were all pretty excited about. The plan was to upgrade the main auditoriums, the Attic, and the Theatre to a consistent wireless system while relocating our existing safe RF mics to our other environments currently using 700 MHz microphones.
With wireless purchases in the past, the tendency has been to equip an environment with a bodypack and a handheld for each receiver to allow for maximum flexibility in programming. This has been great to have, but the reality is that none of our main environments really need that much flexibility. We decided it would be better stewardship in today's present reality to reduce flexibility within one environment while increasing flexibility across our environments by unifying the receivers in each room. Basically we want to move towards more gear sharing than creating production islands. Here's an example of how this could go play out. KidStuf uses a lot of bodypacks while the Attic doesn't. Should the Attic get in a pinch for bodypacks, they can head over to the Theatre and borrow some. If the theatre needs more handhelds, we've probably got a couple in our auditorium that we can spare.
Some of you are probably wondering what we'd like to get for our unified system, and that would be Shure UHF-R's. There are a lot of great systems out there these days, but the UHF-R's make the most sense for us. We're currently a large Shure user so we're all very familiar with their products. My system that will be replaced is the Shure UHF system which is the UHF-R's predecessor and some of our existing components are compatible with the new stuff. Plus I know that they sound great after doing our little mic shootout earlier this year.
However, even with a plan for what we wanted, there was still a lot to be done. The first thing I needed to do was organize the relocation of our existing RF mics. This would serve two purposes. For starters it would be part of the solution we proposed to the decision makers above us. Secondly, we needed an organized list of what we were going to continue to use so that we re-coordinate frequencies for the entire campus.
Given the scope of the RF situation in our room, I knew I should get some outside help on this from an expert. I contacted Clark ProMedia who have been helping me with my audio needs for somewhere around 4 years now, and they brought in Luis Guerra from Shure to help navigate the crowded frequency spectrum and make sure we would get the right gear we needed. Luis filled in some of the gaps in my knowledge about what was happening while also assuring me that there would be enough room for everything we wanted to do. This is thanks in part to the analog TV stations that will disappear in February of 2009.
I've spent the last couple of weeks nailing down our final equipment list. We were originally hoping to get all of our UHF-R's within the same band to allow for maximum flexibility on our campus, but unfortunately we have had to split things up into two bands, G1 & H4. The G1 is the favored band for us because it's where the FCC is going to set aside some room for wireless mics. H4 is where I feel like we could have the most potential interference in the future and need to move frequencies around.
I've spent a lot of time going over and revising the room distribution plan from Shure to make sure that our priority mics land in the G1 band in each room while also trying to get a balance so that we can have flexibility to swap transmitters between rooms when we need to. This is all complicated by the different quantities of channels each room is getting and the varying needs. For example, the Attic will have all their mics in G1 because they aren't a heavy RF user. Meanwhile KidStuf and the auditoriums will get a mix of G1 and H4. If we put all our bodypacks in H4, the Attic won't be able to use them so we need to get those mixed into G1. If the theatre has most of their bodypacks in G1, and they need an extra handheld where will they put it? They'll probably be using all their G1 channels so they'll need an H4 handheld which would come from my room. Will I have an extra in H4 to give or will those most likely be the ones we're using? There is no perfect solution.
At any rate, I feel like I've finally got everything equipment wise in a good place. I dumped our prospective 2009 RF equipment into my intermod software from Professional Wireless the other day. A rough coordination using prospective digital TV stations in 2009 gave me the best results I've ever had using the software with only a couple of intercom devices potentially problematic. I feel very good knowing this is probably going to be a better setup than we're currently using every week.
But even with the equipment side sorted, there's still a good amount of work to do. The next big thing I need to figure out is an implementation plan. We're going to do a new coordination for the entire site so the entire campus is going to need to turn over within a week. That means there will be a lot of existing gear getting reprogrammed along with all the new gear coming online all at the same time. It's going to be big and unfortunately we might need to wait until the analog TV stations disappear on February 9th. I'm going to talk to Luis and get a plan formulated with him for implementing everything.