Next Level Audio Training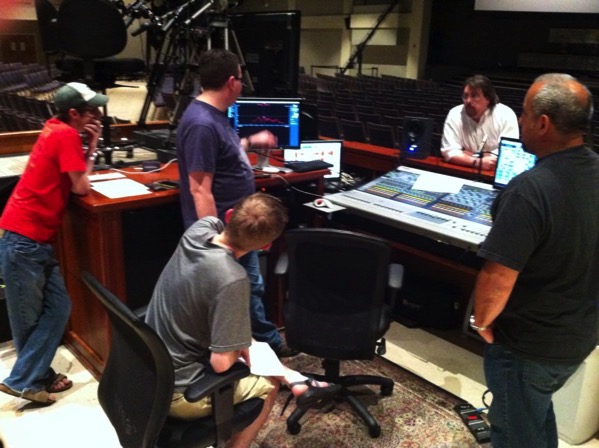 Imagine if you had an expert alongside you and your team in the space you are familiar with who could help you improve your skills in the areas that matter most right now. This is what our Next Level training is all about.
After an initial chat, Dave will formulate a customized training plan for you and your team to take everyone's skills to the next level. Then he will visit your church and train your team in person working directly within the context and equipment of what you are used to using every week.
This isn't one-size-fits-all training. This is training designed around what you need right now.
To find out more about taking your team to the next level, please fill out the form at the bottom of the page to contact us today.
---
Master Classes
In addition to Next Level training, Dave also has several Master Classes available.
Master Classes are designed for educating small to medium size groups of up to 25 volunteer and staff engineers. Classes utilize pre-recorded multitrack audio for educational purposes in an informal classroom style where discussion is encouraged.
Master Classes may be scheduled privately for your church where we focus on applying concepts directly to recordings of your musicians. Classes may also be opened to the public as a way to partner with other churches in your community.
Classes are available in half-day formats great for mid-week training and development or you may choose a full day of classes designed for an 8-10 hour deposit in your team.
Below is a list of current Master Class offerings. If you'd like to find out more info about scheduling a class, please fill out the form at the bottom of the page.
---
Priority Mixing
LENGTH: Full-Day
ENGINEER LEVEL: Beginner to Advanced
Priority Mixing is our flagship class and centers on the big picture of mixing. Time is often a resource in short supply when it comes to mixing, and Priority Mixing outlines and demonstrates how to go for the big wins in a mix so time is maximized on the things that matter most.
One of the things I've always found fascinating is while there is a commonly taught approach to mixing, very few of the A-List engineers who have inspired me over the years subscribe to this approach. Priority Mixing is a hybrid approach blending aspects of the traditionally taught approach to mixing with an approach I find to be more in-line with the methods used by many A-List mixers actually work and approach things.
Topics covered within the class include:
How and where to sit elements such as vocals
How to create space for instruments to sit together
Relationships between instruments
Musicality, or in other words, breathing life into a static mix
---
Clarity & Warmth: Mastering the Craft of EQ
LENGTH: Half-Day
ENGINEER LEVEL: Beginner to Advanced
Clarity & Warmth is an in-depth look at one of the most fundamental tools of mixing: Equalization. We take students from a ground-up understanding of how the frequency spectrum applies to mixing all the way to more advanced concepts such as dynamic equalization with a focus on when and why to apply equalization to maximize clarity and warmth in the mix.
Topics covered within the class include:
Mastering the Frequency Spectrum
Understanding RTA's
When to cut and when to boost with EQ
Finding and Creating "holes" for instruments to fit together
Dynamic Equalization
---
Compression: Yes, You Can!
LENGTH: Half-Day
ENGINGEER LEVEL: Intermediate to Advanced
After EQ, compression is a quintessential tool for engineers. Unfortunately, their operation is often misunderstood by engineers. We go from the basics of compressor controls to more advanced methods such as parallel compression with an emphasis on WHY to use compression.
Topics covered include:
Learning to hear compression
Controlling levels
Shaping Sounds
Advanced Compression Techniques such as side-chaining and parallel compression
This class may be attended by beginners, however, we believe it helps to have a bit of general mixing experience before diving in on the world of compression.
---
Custom Classes
If you have a specific educational need, we would love to discuss customizing a Master Class for you. We can mix portions of the content in our regular offerings as well as incorporate topics such as: FX, Specific Instrument Mixing, Mic Placement, Gain Staging, Broadcast Audio, Plug-ins, Audio Measurement, Pre-Production & Planning. Simply fill out the form below, and we would love to chat about how we can guide your engineers to the next level.
---
Contact Us