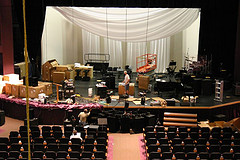 Sometimes You Can't Make It On Your Own – UPDATED
Well, it's time to start the webinars back up again. Our January webinar will take place this Friday January 29 at 10pm Eastern. We're going to try Friday night this time since some folks have reported they are in rehearsals Thursday nights. This months topic deals with designing new systems and upgrades.
I'm pretty excited because this month we're going to have my good friend, Bob Nahrstadt, from Next Creative Media as a guest. I've known Bob for a long time and have worked with him on several projects. Bob is one of my favorite guys to work with, and I love referring people to him because his heart is always to help you find the right solution for your situation. I'm glad he's going to be able to share his experience with us this month.
Update Feb 4, 2010
Here's the audio from the webinar.
[audio:http://www.churchtecharts.org/wp-content/audio/sys-design-webinar.mp3]
Link
You can also subscribe to the webinar as a Podcast via iTunes.