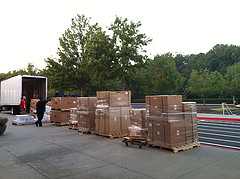 PA 2013 – Underway
The install of our new PA in our West Auditorium is underway this week. On Sunday, the rigging and install crew was on site to drop the old PA and start getting things ready for Monday. Monday morning the two trucks arrived with the new loudspeakers at 7am, and by 9am we had everything off-loaded and the main arrays rigged. Getting them into position took a bit longer.
A lot of the day was a waiting game for me which gave me some time to do some prep work for Sunday. I didn't expect to have any power at all on Monday, but we were fortunate to get the new panels live late in the day so I could listen to the coverage of the main arrays.
Modeling is great and can get really close these days, but the real world is still the final word on how things are working. The main arrays' actual coverage was something that's been up in the air in my mind for a while. We've gone back and forth on splay angles, and I asked the riggers move the boxes a little bit more off-stage than the original design.
I think the arrays moved less than 2′, but it was enough that I wasn't feeling warm and fuzzy when I checked the first array the riggers got into position. So I asked them to turn the next one 2 degrees back onstage, and everything felt a little better. Of course, the process of getting the first array turned in 2 degrees complicated some other things in the air, and I think that's where things were left at the end of the day.
Ah, the joys of installing loudspeakers. I often wonder why we can't put a PA up in few hours like our touring brethren, and then I get into an install and it starts to make sense.
The install will continue on Tuesday and based on Monday's progress we'll probably have everything up in the air by the end of the day. I'm also hoping to start roughing in the PA before we get full into optimization on Wednesday and Thursday. I'll keep posting pictures on Twitter.
If you have questions about the PA, feel free to drop them in the comments. I'll have posts detailing the rig when I get a chance.