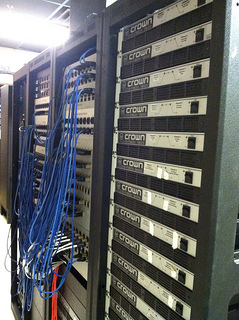 PA 2013 – Head Start
As of yesterday, we are exactly three weeks away from the installation of our new system. In the meantime, preliminary work has begun.
Electrical upgrades have been underway for a couple weeks. We have a couple of new panels going in along with new circuits to accommodate the new loudspeakers which, by the way, I still haven't revealed and don't plan to until I see the boxes come off the truck and sitting in the room.
The first wave of the install crew is on site this week pulling cable and terminating connections. The riggers are also here working on some structural modifications. The idea is to get as much done as possible ahead of time so all we have to do during install week is plug the rig in, fly it, and optimize it.
So far, I'm feeling good things. Unlike the East PA a few years back, we're not handling any of the install labor internally, and the timeline for installing this system has also been a little longer than some projects I've done in the past. This has been wonderful because we haven't had to rush decisions and have even had the opportunity to tweak some things.
For example, last week we changed out all of our planned system processing. The original idea would have worked great, but it was always rolling around in the back of my mind that maybe there might be a better way to go. George Clark called me with some questions that his office had rolling around about it, and I knew right then I should follow my gut and change it. Having margin in our timeline allowed us to make those changes which will not only put the new system infrastructure in a better place, but also provide us with a better overall infrastructure for both auditoriums combined.
If everything stays on schedule from here out, Sunday September 8 will be our last Sunday with the existing system. We'll drop the old PA as soon as the last service is over. We'll also clean out our amp racks that afternoon and install the new system processors. The new loudspeakers should be delivered on the Monday morning of install week.
The goal is to have the main arrays up and making noise by Monday night. Of course, that could all change between now and then, but we're looking good right now.
If something should happen and things get pushed, that will be OK. We're all anxious for the changeover, but at the same time I think it's important to keep the longview in mind as well. We're installing a system that will likely be used for the next 10-15 years. If something comes up and we have to add a little bit of time to the process to make it right, it will be worth it for the long term payoff.