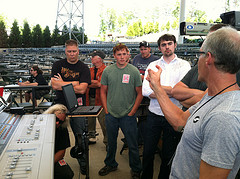 Out in the Shed
A couple weeks ago we had the privilege to hang out with Robert Scovill while he was in town handling FOH duties for Tom Petty's latest tour. I've known Robert for several years and over that time he has become a friend and mentor. There are few people I've met in this industry who are as gracious as he is in sharing knowledge and encouragement. This was the second time Robert has endured my questions and gawking while he tried to mix so it seems only proper to me to share some of the stuff I walked away with.
– The Delivery System Trumps It All
Looking over my entire career, from studios to live sound, it has been my experience that the delivery system(loudspeakers) and the environment they're in are a crucial link in the mixing chain. We can sit around and argue about consoles and analog vs. digital and mics and all sorts of fun stuff, but none of it matters in the end if our speakers and the environment we're listening to them in are corrupt. Mixing is an art of making calculated decisions based on what we hear, and we can't make decisions if we can't properly hear. The sound system and acoustics might be the worst place to value engineer because everything spent on all the other stuff can be rendered worthless if these are wrong.
So one of the highlights of the day for me was watching Robert and his system tech Jim Brentlinger optimize the L'Acoustics K1 rig they're carrying for the show. I have to give Robert credit for making me a system junkie when I attended his Complete FOH Engineer seminar a few years back, and over the years he has turned on many lightbulbs in my head.
We spent a few hours looking at measurement data, walking the venue, and listening as Robert worked at fine tuning everything to work within the real world issues that cropped up. His approach is very systematic and followed closely what I observed him do in Nashville a couple years ago on the last Petty tour. Robert and Jim got everything working satisfactorily after a couple hours, but the process didn't stop there and system tweaks continued as venue filled and the show got rolling.
– Inputs Inputs Inputs
Another key principle Robert has always preached is that you have to get it right at the inputs. It's easy to see how much he believes this after flipping through the inputs on Robert's console. He is using very little EQ and in some cases none at all. Great sources don't need console surgery.
– Know the Material Intimately
One of the things I love about watching and listening to Robert mix is how effortless his moves are. When you watch Robert mix, it is obvious that he is intimately familiar with his artist's material. Everything from accentuating leads to carefully riding Tom's vocal mic seems intuitive. Tom is a soft singer, and Robert is an expert at following Tom and pulling the vocal mic back when he's not singing or talking in order to keep the rest of the mix clean, and Robert does this while still accentuating other instruments in the mix. You can't wing this kind of stuff. Robert isn't sitting behind the desk wondering what's going to happen next. He knows because he's done his homework in learning all the songs and nuances of the artists he works with.
– Mixing for Scale
This was kind of cool to me. I've heard Robert sort of explain this before, and I'll try and do the same but it's probably easier to simply experience. A lot of Robert's mix moves were sort of exaggerated to me, BUT they didn't feel exaggerated. This was evident from the opening guitar on Listen to Her Heart and where things like the drums were sitting in the mix.
Venue size, volume, and perception of the artist on stage do interesting things for audience members. In a big venue like the shed we were in with a classic artist like Tom Petty playing his hits, big moves felt natural. It reminded me of some of the theatre stuff I was involved in back in high school where actors would be directed to use big gestures so that their performance reached the back of the room. When Robert pushed things up, you wanted them up. It directed your attention to the key parts of the songs you know and love.
However, what was also cool was to listen to how Robert's approach adjusted throughout the night as the mood of the songs shifted to more intimate acoustic stuff and deeper catalog stuff. Here the material dictated more of a subtle mixing approach which flowed off of what the musicians were doing on stage.
One way to look at this whole thing was the mixer was an extension of the band's dynamics. The loudspeakers were amplifying the sound while the mix sort of amplified the performance.
Here are a couple examples from the show that I found on YouTube. The camera audio and volume of a home system doesn't do this justice by any stretch, but you can get a taste. Listen to where the guitar licks and drums sit in Refugee relative to the mandolin onHard to Find a Friend. Notice how the mix is an extension of what the band is doing.
– Contagious Attitudes
It's almost ridiculous how nice the audio crew at FOH were at the show. Robert clearly has the respect of his co-workers, and I believe that his graciousness and humility is contagious amongst the crew. People who get treated right are more likely to treat other people right. Robert is always quick to not only answer questions, no matter how simple they might be, he also loves actually showing and demonstrating the answers. We saw a lot of this same attitude amongst the rest of the audio crew as well.
– Work Ethic
I've been to a lot of shows over the years ranging from little club acts nobody's heard of on up to Rock and Roll Hall of Famers. In the case of the hall of famers, the reality is that someone could probably phone the gig in and the crowd wouldn't care because if they can vaguely decipher a song as one of the hits, they're happy. But I don't think Robert Scovill even understands the concept of phoning it in.
I think the bottom line, greatest principle to walk away from a day with Scovill is simply that he cares. He cares about how it sounds for the audience. He cares about how his artists feel on stage. He cares about hitting all his cues. He cares about guests at FOH. He cares about how the system sounds in spite of a venue's inadequate acoustics. He just cares. Great mix chops are important but that's only part of it, and I would bet that it's work ethic and attitude that keeps Robert in high demand.
Thanks again to Robert and the rest of the crew for the day. I think the US leg of the tour might be done for now, but if Tom Petty is coming through town, I'd definitely recommend you check out the show.