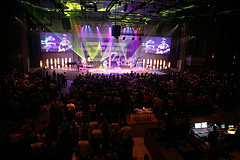 Making a Concert: Part 5 – Console Management
Console management is very important in my world.  For me it's all about getting everything where I can easily grab what I need at any particular moment in a show or service.  I had high hopes on getting v2.6 of the D-Show software in time for the concert because it was going to have a large effect on how I handled this.  Thanks to Digidesign, the software upgrade came in Thursday morning just before rehearsals started.  On a side note, the band was screwing around/sound-checking on stage while I was installing the upgrade; the console continued to pass audio the whole time….but I digress….
Thanks to the new software, I was able to utilize all four banks on the Venue for the first time in two years of operating the console.  Drums and loops were shared by all bands so they sat in their traditional inputs, 1-12.  Beyond that I approached my banks in this way:
Bank A:  Todd Fields Band
Bank B:  Keys and Misc. playback (video, iTunes, click track, etc.)
Bank C:  Kristian Stanfill Band
Bank D:  Fee
Todd's band started on Bank A since they would also be playing on Sunday.  This was done to simplify changing the concert show file over for Sunday's show file and to retain as much of the mix up to the point of rehearsing Sunday as possible.  Also, since Todd's band was the first to rehearse for the concert they were the first one up on the desk.  I threw the keys on the B bank since they were primarily used by Todd's band so proximity to Todd's bank was a good thing.  I typically get the keys sub-mixed and then use a VCA for in-show mixing so they sat right under the Bank A acoustics on the sidecar for easy switching between the two banks as necessary within the show.  Banks C & D were relegated to handling the inputs for the other two bands.  I bank safe'd the drums for the show so that I had all the inputs for each band up during their set.  Worship leaders and their acoustics were strategically placed on each bank so that I could bank safe their channels to pull up all worship leaders and their acoustics at one time for the acoustic all skate opening and closing numbers of the night.  Any playback, backup mics, click tracks, or whatever didn't fit within the categories above ended up on Bank B since it had the most room left.
The layout worked pretty good, but if I had had another day of rehearsal I would have done a little bit of tweaking.  My main change would have been to assign the first three banks respective to the order of the bands.  So it should have been Kristian on Bank A, Todd on Bank B, and Fee on Bank C with Bank D reserved for everything else.  I could have done this and still retained the patch for Sunday.  This would have helped at some points in the night where I was doing a little more thinking than I needed to be doing at the time.  
I also would have been a little more strategic with where I set the keys channels and maybe some acoustics relative to the FX returns.  One thing I found was that with the bank safe ability, we had the FX returns up a lot more than normal during the night.  A big part of that was due to Vance's involvement.  I had two fingers from my left hand on bank safe'd vocals while Vance would be flipping the FX returns and keys up to tweak them.  Sometimes it was nice to just leave them up, and I would have set things up a little better so I could keep the FX up a little more easily.  Overall, though, I was pretty happy with how the whole thing came off using new features I'd only had available for less than 48 hours.