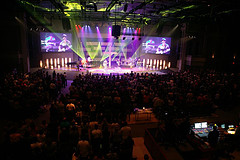 Making a Concert: Part 3 – Monitor World
Today I bring you a first:  a guest post at Going to 11.  Luke Roetman is my associate audio director, and for the concert he is overseeing everything related to monitor world and backstage audio.  Since he's the expert, I asked him to talk a little about what's going on in his world so here's Luke:
***
A few days ago Dave asked if I was interested in posting a segment on how monitors are being handled for the concert, so I thought I'd give this a shot.  So, thanks Dave for this opportunity! 
It's just two days until show time, and things really are starting to come together.  We use a complete IEM system at North Point, and rarely have wedges on stage.  Thankfully, we will have no wedges on stage during the concert.  This has been a huge advantage, however, it requires more audio guys backstage.  Let me talk a little about our setup.  Our current monitor console is the Soundcraft SM20.  We actually have two of them; one for each auditorium.  With our current setup, each one allows 7 stereo mixes, and 4 mono mixes that we can fake into 2 more stereo mixes.  For those of you who know the SM20, the other two mono mixes run kit and vocal verb for the band.  We will be rolling our other SM20 into the auditorium to have them side-by-side.  This will give us 18 dedicated stereo mixes for the band.  Thankfully, the audio guys before Dave installed a second snake that can be connected to the 2nd console, so the connection is a breeze.  
We have 10 wireless IEM's, and run keys, bass, and drums on hardwired mixes.  Our 1st monitor console will run Todd Field's band.  This way it will be set for them on Sunday as well, and we will have to do little changes Friday after the concert.  The 2nd console will manage Steve Fee's band and Kristian Stanfill's band.  The only sharing that will happen will be the bass and drums packs between the latter two bands.  This should make things go a lot smoother during show-time so we can concentrate our time getting each band set and in place during the transition videos, and have few mixes to change on the fly.  We will have 5 people backstage dedicated to Monitors.  Two M1's (the monitor engineers), and three M2's (monitor assistants).  I will be one of the M1's.  Hopefully the way it will work is this.  The M1's can concentrate on the mixes, while the M2's can work with the musicians and help them get into place, do any patching on the fly that needs done, make sure battery levels are good, and just help keep things under control.  We will probably have an M2 dedicated to each band to make sure things do not get too crazy backstage.  Well, I better get back to preparing for the concert, but please feel free to comment if you have any questions!  
Luke Roetman