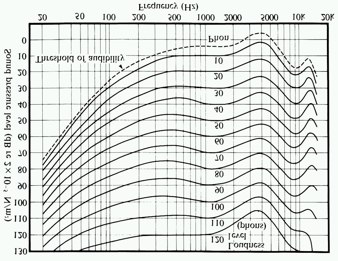 Harsh Reality: Part 2 – A Dynamics Challenge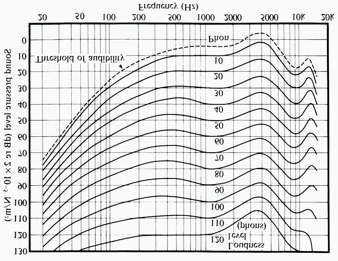 Inverted Fletcher Munson Contours
In my last post I started talking about Equal Loudness, and the comments seemed to skew more towards considering Equal Loudness for system optimization. While that might factor a bit into where I'm going with all this, that's not quite what I'm really getting at right now. But for the record, I'm still in the linear PA camp using Smaart, SysTune, SIM, etc., to get there. I'm just not a believer that there is one right way to do things when it comes to the world of audio which is part of why I float Dave Rat's approach to tuning his PA out there. But I digress…..
So what does Equal Loudness have to do with what we're doing in church audio? Let's start with a quote from Bob McCarthy's book Sound Systems: Design and Optimization as he takes a brief look at the Equal Loudness Contours:
This does, however, put us on notice that in order for listeners at different locations to perceive the same frequency response we will need to match both frequency response and level. If the level is not matched, the listeners will perceive a matched frequency response differently due to their ear's non-linearity over level.

Bob McCarthy – Sound Systems: Design and Optimization
So we have a challenge, and that challenge relates to a debatable concept: live mix translation outside our room. In this day and age of webcasting, podcasting, and who-knows-what-casting still to come, I believe mix translation is becoming more and more important to what we do with church audio on a weekly basis. This is especially true as budgets and resources become more and more limited, and it really becomes the job of the lone FOH mixer to provide a mix that can literally go around the world. And while the concept of a mix that translates may be true to an extent for just about any mixer in a live environment, I do believe we have a unique challenge that can be difficult for those outside our little church audio niche to understand.
The way I see it, we have a dynamics challenge. The dynamic range of a modern church service can run anywhere from 20-40 dB, and I'm talking RMS levels–not peak to average. However, the range we are probably used to listening to at home or in our car might be closer to 10 dB, and maybe less than that at times. So let's look a little closer at this.
It seems there are generally two main components to just about every church service these days: talking and music–I'm skipping video for now, but I'll probably touch on it a bit in another post. I don't know what other churches are doing, but the volume of talking in our services is usually pretty close to the volume I would listen to talking in my car or at home. It's almost conversational in level. So going back to system tuning, a linear PA can be great in the case of talking because if it sounds good in the room, in theory, it's probably going to sound good if I play a recording back somewhere else. We're mixing near the same level our content will playback in other rooms/environments.
But then there's that whole music thing. When I talk with other church sound guys, it seems the trend with music these days seems to be moving towards louder music especially with more modern music styles. The result is the level we listen and mix music at for services in our rooms is moving farther away from the level we listen to in smaller environments like our car or home or on an iPod. In fact, the level we'll listen to music at outside of our rooms is actually probably closer to that same level we'd listen to talking at.
Look back at that Bob McCarthy quote above. Knowing what we know about Equal Loudness, if we are making tonal and mix decisions based on our perception of sound at a given volume that is different from some of the places we'll listen to it, what happens when we listen to the same mix at that different volume? Think about what will happen if we webcast/broadcast that mix for people to listen to on their laptop speakers or through their TV? When we start to understand equal loudness contours, we can start to see that we are going to perceive things a bit differently at home than how we perceived things in our louder live mix location.
Looking back at Dave Rat's approach to tuning a system, we know from his video that he gets his tones and balance through headphones. In a way, he's simulating a studio-esque, controlled environment for his mix. He builds the mix on the console and then modifies the PA so that the mix translates from night to night in different rooms at a volume that is probably quite higher than what he pumps into his ears through a pair of headphones. If those headphones are linear in nature, do you really think his PA's get tuned to be linear? I haven't heard Dave's mixes, but knowing what I know about Equal Loudness, I would guess if he played his headphone mixes back through a linear PA they might lean towards being somewhat bright and harsh.
But back to our audio niche and the big question: Is it really that big of a deal if at most our music is 20 dB or so louder than that studio environment? In fact, how many churches out there even have a 20 dB difference to contend with? I'll even admit that on paper, the curves might look a little different at a glance. Some might characterize them as subtly different. However, I would contend that the mixing business is all about the manipulation of subtleties.
Up next I'll start to look at some of my own experiments related to the equal loudness phenomenon and some of the challenges that got me looking more in its direction.