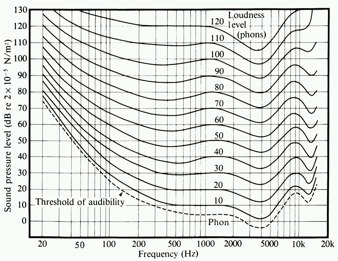 Harsh Reality: Part 1 – All Things Not So Equal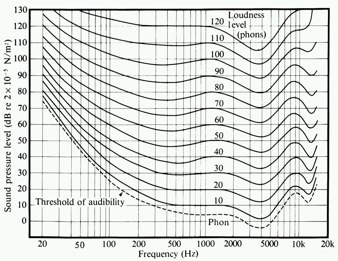 Fletcher-Munson Contours
I've been wanting to thrown down some thoughts on something for a while now, and Dave Rat's latest video on EQ'ing a sound reinforcement system has provided actual motivation. Today I'm going to be talking about one of my favorite audio subjects. If you are streaming your services online using your FOH mix, I think this is important stuff to understand because it can bite you and is what I think might be one of the major challenges facing audio in church world right now.
So, quick refresher for those tuning in. One of the big concepts I've beat a drum on is the concept of a linear PA and optimizing to achieve this. Basically the theory is that what we deliver to the PA is what we should hear; the loudspeakers should sound just like the outputs of our console. This is kind of a big system tuning approach that a lot of big names get behind like Meyer, Scovill, McCarthy, etc, etc. Of course like many things in audio world, there are other approaches.
For example, I feel confident in saying that Dave Rat(Red Hot Chili Peppers, Rage Against the Machine) does not tune his PA to exhibit linear performance. I haven't talked to Dave or even watched him tune his rig, but I have a good sense of this simply from his philosophies on tuning that he outlines in his video. Now I don't think there's anything wrong with how he tunes his rigs, and in fact, I'm starting to wonder if in some circumstances it might be a better approach.
So what clued me in on Mr. Rat's optimizing preferences? Something very simple: his board tapes sound like CD mixes. In the world of sound reinforcement this doesn't always work if you tune the PA linearly, and it's basically a consequence of our good friend Equal Loudness. Equal Loudness is a concept I first learned about in college, and it's something that has always interested me. I touched on this a few months ago, but today I want to start to dive into the stuff I've been dwelling on lately.
So, brief school lesson on equal loudness. Equal Loudness is all about perception and the way we perceive loudness of frequencies. Equal Loudness is basically the reality that we humans don't perceive all frequencies equally when we hear different frequencies at the same measurable sound pressure level. This is a backwards concept at first glance because the reality is we don't hear things equally. Our ears are NOT linear. However, the concept is referred to as Equal Loudness based on studies that have been done to measure how loud frequencies need to be for us to hear them equally.
The Fletcher-Munson contours displayed here are one of the first/more-famous studies done on equal loudness, and as I just mentioned, the curves display how loud a given frequency needs to be for us to perceive it at the same volume as another frequency on each contour. When the studies were done, they would typically play two tones for a subject: a 1k tone followed by another frequency. The subjects would then confirm when the two tones were perceived to be the same loudness. There have been more studies done over the years, but the Fletcher Munson graphs are easier to find on the internet and aren't that far off from the current standard, ISO 226:2003.
Of course, the plot thickens with equal loudness as our overall sound level changes. If you look at the different contours, you will notice that our perception changes as volume increases or decreases. Basically, if we turn the volume up or down on our stereo, our perception of the spectral content of what we're listening to will change. So, it's almost like there is an EQ in our brain that changes dynamically as we're exposed to different volumes. It's wild stuff.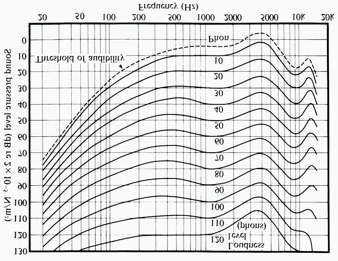 To better understand this, I like to look at the curves after flipping them. This way I can see what that brain EQ is actually doing. What I can see is that when things get louder(the lower contours), our perception tends to get more even, although we tend to get more sensitive to the 4 kHz area. When things get turned down, we gain increased sensitivity to low-mids in the 400-500 Hz range while that 4 kHz bump comes down a bit.
When I start to look closer at Equal Loudness and how it affects our hearing perception, it makes me wonder if the concept of having a perfect mix that sounds great at any volume is really achievable. Next up I'll start looking at how this applies to us more specifically in Church World.