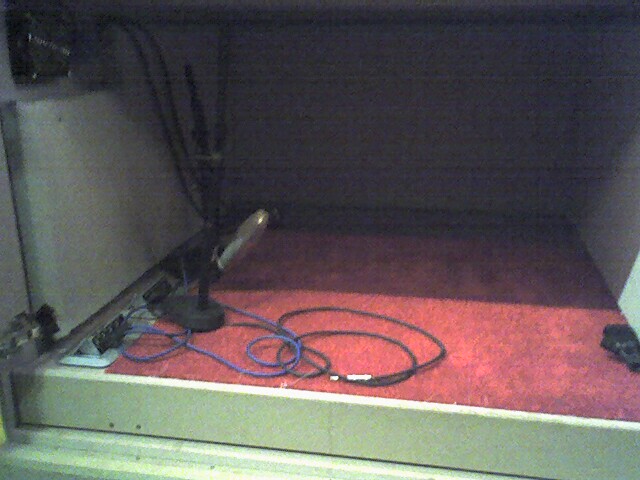 A New Guitar Fad?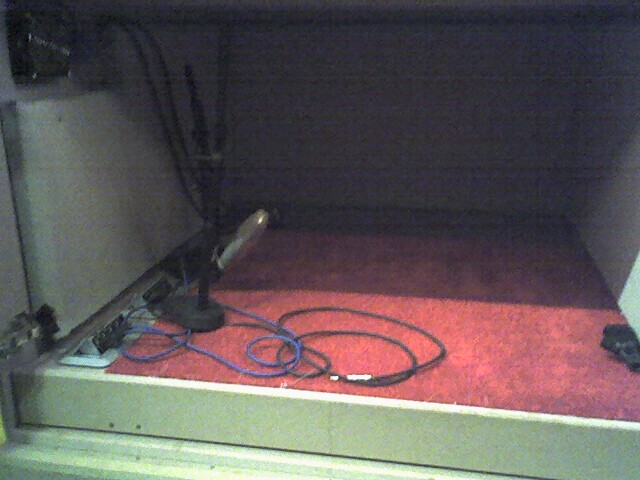 I am a guitar amp snob, and a tube amp snob to be specific. I've said it before and I'll say it again: something very commonly misunderstood by non-guitarists and non-musicians is that a large part of an electric guitar's tone comes from the amp. It gives it a color and a flavor, and part of that character comes from pushing it so that the tubes overdrive and create all kinds of juicy harmonics. Many believe that guitarists just turn up loud because they want to hear only themselves–and this is probably true of some–however, the truly good guitarists turn their amps up loud to drive those tubes harder. It's not about being loud, it's about getting great tone.
The photo you see here is a view of the inside of one of our guitar amplifier isolation boxes. These boxes sit off stage so that our guitarists can use real amps and crank 'em. It keeps our stage quiet, but more importantly helps with maintaining a clean stage look for our video capture that goes out to our other campuses. About a year ago we began using the Radial SGI to connect our guitarists' on stage to their remote amps. However, as you can see in the photo the box was empty for rehearsal this week. Actually three out of four of our boxes were empty.
Several weeks ago one of our guitarists showed up with a new toy: The Line 6 POD X3 Live. The Pod X3 is Line 6's latest iteration of their popular guitar amp simulator, and the X3 Live comes in the form of a pedalboard. I was initially skeptical because I've never been completely satisfied with the POD's in the past, but the guitarist who brought it in is a fellow tone/amp snob so we hooked it up. I have to say I was actually a bit impressed with it. Out of the box it sounded pretty good, and with a little bit of tweaking it was sounding indistinguishable from the real thing.
The popularity of the X3 Live has quickly spread through our guitarists, and tonight 3 out of 4 were using an X3 live. And these weren't just any 3 guitarists; these were 3 of our most discriminating guitarists. These guys were playing boutique amps just a few weeks ago and now they're just using an X3 Live. They love it because it sounds good, and it is incredibly easy to load-in. We're liking it because it sounds good, it's easy to hook up, and it looks a lot better on stage than some of the guitar pedal-fests.
Of course this could just be another gear fad and the amps will be back in a few months. Time will tell, but I'm actually thinking about trading in one of my amps for an X3 to join the club….