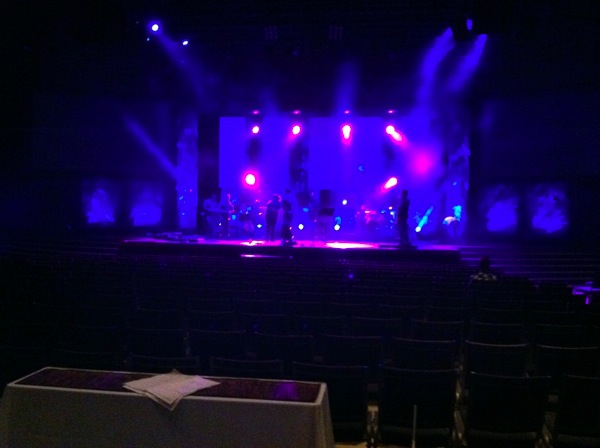 Workflow – Night of Worship Fall 2011: Wednesday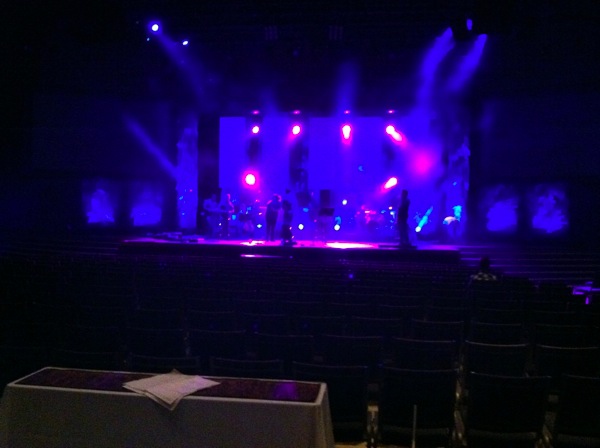 Event days are pretty straight forward so this is going to be a shorter post. My work for the event started after lunch with firing up the system and doing a little last minute virtual soundcheck. One thing I didn't mention in the last two posts is when I'm mixing on the PA for rehearsals and virtual soundcheck, I typically turn off all the fills. This way I'm only listening to the mains which gives me a cleaner version of the mix. When I come in before an event I like to check the mix again with everything turned on to make sure the mix still works with the increased room interaction generated by the outfills; people in the room kind of split the difference so it's nice to know the two extremes. Everything still worked so I flipped the console back over to the stage racks and waited for the crew.
My audio crew started arriving around 2:30 about a half hour before the band call. They took care of batteries, getting vocal mics ready, and performed a line check. When the band arrived around 3pm, our music director talked through some changes, and by about 3:30pm we were making noise. The band ran most of the songs, but especially anything that had changed. I usually use this time to make any last minute tweaks. These might be for slight gain stage changes, EQ adjustments, and snapshot tweaks. I also had to dial up a mix on the song that was added on Tuesday, but that was relatively simple because I was able to repurpose one of the snapshots for a song that was cut.
We took a break around 4:30 and waited for the rest of production. Once production was in place around 4:45, we proceeded to hit some of the newer songs for the evening along with some of the transitions. That wrapped around 6pm. I had a couple more soundchecks for non-musicians, but I was on dinner break probably by 6:30. On events like this, I usually try and find somewhere quiet to rest my ears before the event starts, and I might even put in earplugs to really isolate myself.
Lately I've been trying to be at FOH about 15 minutes before we start especially on bigger events like this. Even on Sundays I like to be out probably 10 minutes before downbeat. It gives me a chance to double-check my Pro Tools session and make sure everything is ready to record. I'll also look at Wireless Workbench to make sure all our vocal mics are up and batteries are in good shape. Finally I'll go through my driverack software to make sure that the entire PA is on. About two minutes before we start I get Pro Tools running. Then it's time to mix.
After the event, I exported MP3's of the board mix out of Pro Tools for the band. I also had to re-patch a couple things for Sunday. It ended up being an early Wednesday night than usual since we typically have rehearsal on Wednesdays. All in all I was pretty happy with the night, and the attenders all seemed to be engaged which is what these are about.
If you've got questions about the event, please leave a comment below.