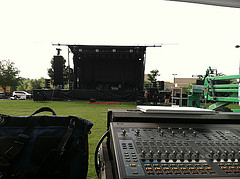 The Concert "almost" on the Lawn
Last week I got to be a part of an event that almost happened. We have somewhat yearly event called Concert on the Lawn where we get some of our musicians, bring in a bunch of production, and set up out on the front lawn in front of our building to put on a concert. But this isn't a worship concert. The music is all mainstream, and this year's set would have run the gamut from Motown to classic rock to contemporary country to hipster indie to current pop hits. It's a big mix of music and a lot of fun for everyone, but the big reason for doing this is it's an easy opportunity for our members and attenders to invite their friends and neighbors who might not be as inclined to visit on a Sunday morning.
I was excited about Concert on the Lawn this year because it was the first time everything worked out so that I would be mixing the event. The PA we brought in was a d&B rig comprised of 10 J12's per side with 4 V's for outfills to cover the extreme sides. Subs were B2's, and I think there were 16 of them set up in groups of 2, but I don't remember the exact number.
We rehearsed all day on Tuesday and Wednesday for the event, and then I spent Thursday doing some mix refinements with virtual soundcheck. I think there were about 24 songs planned, but with some of those being medley's and mash-ups the total from my perspective was closer to 30-32.
With that much music I got maybe 2 passes at each in rehearsal so virtual soundcheck was a big help. The band sounded really good in rehearsal so most of what I did in virtual soundcheck was fine-tuning of vocal blends and effects. I had 8 singers taking turns between lead and backing vocals throughout the show so there was a lot of programming to send people to the right effects as well as just some simple song management.
For example, I knew I would want to ride the BV's throughout the show to minimize bleed in the mix and maximize gain before feedback so I used a BV VCA that reprogrammed on a song-per-song basis. Virtual soundcheck was also a good opportunity for me to make a few notes on each song about any arrangement specifics that had changed from the demo's and reference recordings I had been listening to for the two weeks leading up to rehearsal.
Production loaded in on Friday morning, and the PA was up in the air making noise probably by 10:30am. Pete, our system tech from Spectrum got the rig in great shape before I started putting my own reference stuff through the PA. I did a couple of little EQ tweaks on my feed to the PA before running the rehearsal tracks through the PA via virtual soundcheck. I was really happy with how the tracks translated to the outdoors, and then it was just a matter of waiting for the band to show up.
I've always been a fan of the d&b J's, and playing a bit on the rig before the band showed up was a great reminder. The whole thing sounded great, but the subs really stuck out to me this time. It was interesting for me playing with the d&b stuff after a few years of mixing almost exclusively on our Meyer rig. The J's have always done something with vocals that I really like that really brings them forward, but I definitely got more of a sense of the color of the d&b stuff this time out. There's a thing that happens in the mid-range on the d&b stuff that isn't necessarily bad, but at this point in my career I personally prefer what I consider to be a more neutral sound I get from my Meyer MICA's. Both are great rigs, though, and I will happily mix on either anytime.
The band loaded in just after lunch and eventually started rehearsing. I did some little gain change things and moved some microphones around, but for the most part everything was working. This was good because I was trying to minimize using the PA as much as possible while the band rehearsed since we have businesses in the area that I didn't need to pound all afternoon. I opened up the PA for the first verse and chorus of most of the songs during rehearsal mainly to check where vocals were sitting and to tweak any effects since I was outdoors now without any walls, but once I was feeling pretty good I stopped making noise.
This was a good thing because of the weather issue.
We watched the weather all week and were constantly watching the radar on Friday. Our Browns Bridge campus dodged the rain the night before with their own Concert on the Lawn, but we were pretty sure we weren't going to be as fortunate on Friday as we watched a line of weather moving in from Alabama.
We had tents up over FOH all morning and tarps started going up around FOH during rehearsal. We completely buttoned up FOH at the first sound of thunder, and an additional layer of tarp was added over the equipment within the tent. The first wave of some sprinkles passed uneventfully and after a bit most of us made our way inside the building since it was about time for dinner. At that point we were pretty sure we were gonna get dumped on again by the weather before showtime, but most of us were optimistic that it would blow over in time for the show and a nice evening for music.
Well we were right that it would dump on us and blow over, but it dumped a lot harder than we expected.
I was sitting inside when the storm hit. It started as just rain, but suddenly everything picked up and all I could see outside was a blur of white.
And then the power to the building went out.
When the storm passed, it didn't take long to figure out we couldn't do the show outside. We would have been OK if it had just rained, but the unexpected wind tore everything apart. Doing the show inside was a contingency plan in case of weather, but that quickly disappeared when we learned it would be several hours before power was back on in the building. It didn't take long after that for a decision to be made to cancel the event. There's talk about rescheduling things, but I'm not sure when that's going to happen at this time. As the rain slowed down we packed everything up and loaded out.
Fortunately nobody was hurt. Most of the gear was probably OK, but most everything got wet to some degree. Personally, I was really impressed with how professionally everyone handled the setback. It was definitely a disappointment not being able to do the show, but it was still an enjoyable day up to the point of canceling. Hopefully we'll still get to put the event on in the coming weeks, although, this time it will probably be under a roof.
Here are some photos of the aftermath from the storm.

FOH


FOH


Monitor World


B2's