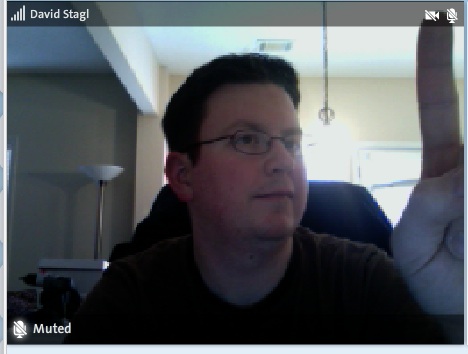 Talking about Drums – REVISED
We're going to try another TokBox conference this Thursday, March 26 at 10pm Eastern. This week's conference is all about drums, and in my opinion probably going to be infinitely more interesting than our last talk on wireless. I'll do a post with a link just before the thing starts so be sure to check www.goingto11.com just before 10pm or watch for a Twitter from myself or Jason or Mike.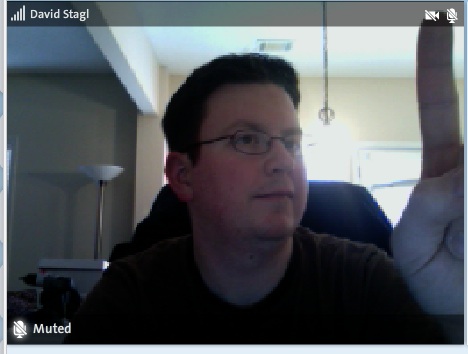 Now here are a few requests for everyone who's thinking about joining us. TokBox is an open forum type setup. Everyone who connects has the ability to speak all at any time. As a result of TokBox always broadcasting everybody, it can be very easy to create lots of feedback loops if you are like me and working on a laptop where the internal microphone is located close to the speakers. So please use a pair of headphones for the chat. If you're on the east coast like me with family in the house, they'll probably thank you for it.
The photo to the right is what your window will look like when you join the conversation. If you don't have a webcam you'll still get a window minus the video. Notice in the upper-right there is a microphone icon. When you initially join the conference, please make sure to click it so that you are muted. This just makes things a lot cleaner because then the rest of the group doesn't have to listen to another 10 people munching on chips or breathing heavy or talking with their spouse or kids while someone is trying to talk about drums.
I know one of the topics we'll most likely talk about is mic placement so here are a couple of photos of a kit I mic'ed on one of our stages. The photos below are about a year old from the Drive Conference in 2008, but I don't think I've really changed things much in that time–overhead is maybe a bit lower now. At any rate, these photos might come in handy for discussion purposes on Thursday. See you then.
Mics in use:
Sennheiser e902 (kick)
Shure Beta91 (kick)
Shure Beta57 (snare top)
Shure SM57 (snare bottom and snare top on 2nd snare)
Audix ADX51 (hat and ride…I think)
Sennheiser 421's (toms)
Rode NT4 (overhead)