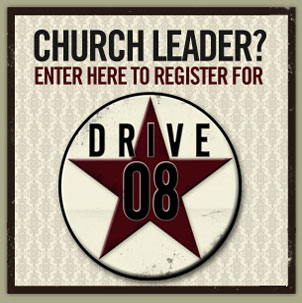 Road to Drive: 2 Weeks Out
I apologize if the blog is starting to sound like an ad for our Drive Conference, but it's the biggest thing on my horizon right now so bear with me. While the conference is a little larger in scale for us, our processes aren't really that far off from how we approach a typical Sunday–it's really just a couple extra meetings for me, and a little more pre-production time on my end–so I hope you can pull some wisdom out of this whether you're coming out or not.
Last Thursday we had our first tech meeting for the conference. It was very typical of our tech meetings for Sundays we have every Wednesday to talk about the next two Sundays. Tyler Reagin is the producer for the conference, and he walked through each session with us element by element. A good amount had changed since I started my own pre-production. The changes tend to be refinements such as swapping songs in and out and swapping some of the singers for the best presentation. It's really very typical stuff, and it is getting me VERY excited about what's going to happen. I'm trying to contain myself a bit because things could change, but a lot of this is going to be a blast for me to mix.
This afternoon I finished revising the input list for each session with the changes from last Thursday. Usually by now, I can get pretty locked in on inputs due to the extended scale of these things, which makes handling changes more and more challenging as we get closer to the event. However, as of now we've been very fortunate in that there is still some margin. Google Docs has been both a blessing and a curse in this area. One great advantage to having the input lists up at Google Docs has been for our Production Director to quickly be able to look at things while in pre-production meetings I'm not invited to; that right there has probably saved us a lot of time and gray hair.
I know I was espousing all this goodness about Google Docs a few posts ago, but it turned out to be a paint at first. Whenever I'm doing multiple sessions, bands, etc. I like to have separate input lists for each with a large sheet giving me a grand overview of everything; I'll post the input list after the conference so you can see what I mean. I program the spreadsheet so that I can simply make updates to the overview sheet and have it automatically update the individual worksheets. In this conference, for example, I have an "All Sessions" worksheet where I do everything and can see the inputs for all three sessions, and then there is an additional worksheet for each session. Whenever I update my "All Sessions" sheet, the individual session worksheets automatically adjust. I even have the All Session sheet setup so that as I make changes to Session 1, those changes get passed down to Sessions 2 and 3. It's a little bit of extra work to get the programming, but it makes handling changes a lot easier. Of course, doing that programming on Google Docs is a royal pain so I had to do it locally in Excel and then re-upload. The problem is whenever we upload our spreadsheets, Google Docs does a number on the formatting adding more work to get things to print and display correctly. But everything is working now, and we should be back on Google Docs exclusively for the rest of pre-production and production.
This week is the set build for our next series which will then transform into the set for the conference. We also have our final tech meeting at the end of the week before rehearsals start next week. I'll be back later this week or early next with an update as we move closer.
For those of you who are attending, our production director has a post up on his blog about how to get into the round tables.