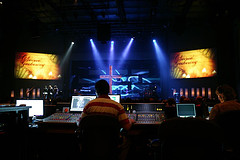 Riding the edge
So in honor of my vacation and a favorite vacation activity, here's a question I have for you guys that nobody ever seems to address. How do you stay awake when you're mixing in a church? Seriously.
Music isn't generally a problem because it's an active sport for the FOH engineer. Videos aren't generally active to mix, but they seem to have a little bit more going on to hold attention plus they tend to be relatively short. However, the preachers can get tough. I've had the privilege of mixing some great speakers, and the reality is that listening to the same guy give the same speech multiple times can be hard. Every once in a while I'll get to mix a guy who tends to have a lot of dynamics requiring active mixing of the sermon, but by-and-large the fader goes up during the sermon and sits there until the end with maybe 2 or 3 adjustments throughout. While some of you may be extraordinarily gifted in attentiveness in spite of repetitiveness, I am not, and when take 2 of a long sermon collides with a shorter than normal night of sleep the challenge of mixing can easily be overwhelmed by the challenge of just staying awake.
Now, I don't think I've ever actually fallen asleep, but I have on occasion skated on the line of bliss that sits between consciousness and unconsciousness; it's thin ice, but it feels so good. While I have been fortunate riding the edge in the past, I would like to avoid completely falling asleep as I've heard enough stories to know that I don't want to be that guy. In my previous church, I would sometimes slip into the atrium where I could still hear with my laptop wirelessly controlling FOH, but I wouldn't dream of doing that now. In that scenario FOH was also located near an exit, but these days I sit among the people making an exit quite obtrusive and a reentering anything but subtle.
Several months ago I finally decided that it was more dangerous for me to potentially fall asleep at the wheel than to engage in some sort of alternate activity at FOH so I started bringing a book. This was a big help, but reading can get difficult for me at times because the guy talking on stage can be distracting. I know some guys might resort to fiddling with other things on the console, but I will never forget the time the lighting guy at my last church blacked out our pastor TWICE in the same service so I try to limit all console work to that which is necessary.
Lately my answer has come in the form of my relatively new acquisition of the iPhone. I can easily check RSS feeds, email, and I am also quite good at Solitaire. Last weekend I tried playing a little bit of air hockey on it before the service with our audio intern via wifi, but I quickly realized that would be a bad idea during a service based on our very audible reactions while playing. In all seriousness, though, the iPhone has come in rather handy at providing a low-distraction activity to allow me to keep just enough attention on the sound in the room along with enough variety to keep me awake. But I realize that not everyone has access to one of these so I'm curious. What are some of your favorite strategies for staying awake through multiple services? Please try and give us an idea of where you're FOH is located as a more concealed FOH can offer a wider range of options.