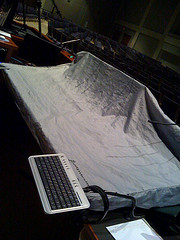 RF Week: Day 2
Today was a bit of a vacation from RF stuff for the most part. I did a little bit this morning trying to figure out how to re-program our lone Sennheiser handheld microphone and receiver to a new frequency. While I am really happy with the performance of our new UHF-R's, there are still a few singers that I like the Neumann KMS-104 & 105 on, and I intend to continue using those capsules with those vocalists.
We spent the rest of the day rehearsing for Thursday night's Night of Worship. During rehearsal JJ programmed our Telex BTR800 packs for use, but beyond that it was more of a typical rehearsal day for us.
We'll be back on RF stuff on Wednesday, though. We need to have the rest of the campus ready for Thursday morning before we leave Wednesday night so there might be a bit of a push. I'll be back tomorrow with another update.