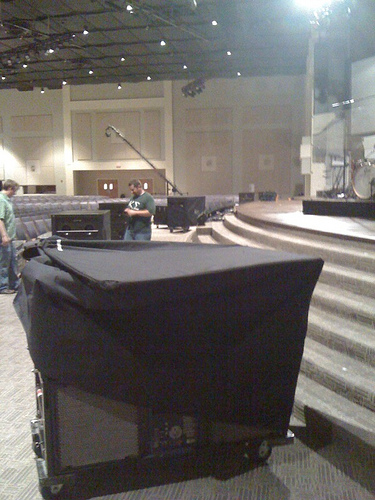 NP Live 2009 – Day 1: Load-In
The rest of the behind-the-scenes on the all-campus opener we did last week is coming, but first I need to get through this week. This Thursday we're recording another live CD at North Point so this week is CD week. We've brought in a bunch of gear for the night so here's a quick run-down and some photos from day 1's load-in.
– 10 Meyer Sound M3D Subs: After trying the 700HP's at DRIVE '09, we wanted to hear what a difference cardioid subs would make. These things are stupid heavy. I am not looking forward to load-out.
– 10 Meyer Sound M1D's: We're using these as front fills. They'll help pull the image down and will also make the subs sitting right in front of the first row feel better.
– Digidesign Profile: We determined the best way to handle monitors for the night would be to bring in a digital console so we rented a Profile. The rental FOH and Stage Racks are at Monitor World, and we put our FOH D-Show at Monitor World since our Monitor Engineer is more familiar with the D-Show. I put the Profile out at FOH because I am less familiar with it, and it'll make things interesting for me.