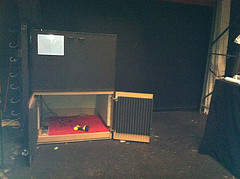 Moving Boxes
So there were some questions on Twitter when I posted that we were removing a couple of our guitar amplifier isolation boxes so a short post seemed like the best way to elaborate on what's going on.
First off, we're not eliminating guitar amps. I love amps, and I'm still not a big fan of the popular alternatives; I can make them work, but they're still not the same within the context of a mix, although I'm not sure that's entirely a sound quality issue….maybe another post someday on that…
This week we retired two of our original isolation boxes because we're building new ones. The existing boxes were version 1.0 and still work great. They are a great size for most combo amps and some speaker cabinets, however,as you can see from the photo here, space is tight with bigger cabinets; internal dimensions are probably close to 4′ wide by 4′ deep x 2 – 2 1/2′ high. The originals will most likely be finding a new home within our organization, but if they don't we'll probably be looking to sell them.
We've wanted bigger boxes for some time, and due to some projects that are happening it seemed like a good time to start replacing them. The new boxes will be near carbon-copies of the ones designed by my friend Chris Briley at our Browns Bridge and Buckhead campuses. They're essentially 4′ cubes and will most likely be treated on the inside with 2″ of rigid fiberglass wrapped in acoustically transparent fabric. I have a post from a few years ago with a little bit more info on what goes in version 2.0, but I don't have any hard plans outside of those since these are pretty simple in design.
As the new boxes come together, I will try and post photos via Twitter and maybe here once everything is done. I will also be happy to put anyone in touch with the guy I have building ours if you'd like to get some boxes made for yourself but would like to skip the DIY route.
If you have any more questions, please leave them in the comments.