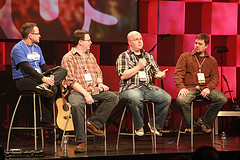 Gurus Chicago 2011 Bootleg – Mixing: It's an Art, Not a Plugin
Photo by Matt Satorius
I had a blast at the Gurus conference in Chicago last week. There was a ton of great content from the main sessions and breakouts. It's amazing to see so many different people coming together to share their knowledge and experience, and even as a presenter I know I walked away with a lot. It was also great seeing so many people in person that I only get to interact with from many miles away. I wish there had been more time to meet people, but I guess that will have to wait until next time.
So one of the most asked questions I get whenever I'm going to teach at a conference or event is whether everything will be recorded and made available at a later date. Since the nature of the Guru's conference is that it's a free sharing of information, I figured I would take a little initiative this time to make sure information was captured for those unable to attend as well as those who want to review things once again.
So I threw our Zoom H4n into my bag before heading out and made sure to record as much of the audio sessions as I could. Over the coming days I'll try and post the ones where the recording came out OK. Bear in mind these are bootleg recordings. I literally pointed the thing in the relative direction of the stage, set the recorder in auto mode, and started rolling–I wasn't there to record things, I was there to present and attend the sessions. I am trying to clean these up a bit which essentially amounts to slamming them with a limiter and cutting some low-mids from the things to help with speech intelligibility; the auto-level on the recorder did a number on some of these, and I'm not going to fix it. If you want to get the content, that's what these are for, but quality recording wasn't the goal in doing this.
All that said, here's the first bootleg. This is the audio from the breakout on the first day that I was a part of titled Mixing: It's An Art, Not a Plugin.
[audio:GurusChicago2011/mixing-artnotplugin.mp3]
Download: Mixing – It's an Art, Not a Plugin