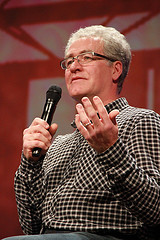 Gurus Chicago 2011 Bootleg – FOH Mixing Breakout: Part 2
Photo by Matt Satorius
I'm taking a break from my multiband series since I don't know if I'll get to finish it this week. In the meantime I present you with Part 2 of Robert Scovill's breakout from Gurus in Chicago.
Let me preface this because I had to do a bunch of editing to it; I believe it went from about 45 minutes down to 17ish. The bulk of the actual presentation was Robert putting together a drum mix turning knobs and pushing faders, and I didn't think the recording did a lot of that justice. However, there were still a lot of nuggets so I just started by trying to go through and pull out those out. You'll periodically hear things fade out and back in, and if you haven't figured it out, those are edits.
As apprehensive as I was about some of the audio quality, I did still leave some of the actual drum mixing in because you can still hear that it was making a difference; the polarity demonstration is particularly obvious. Just bear in mind that this truly is a bootleg recording, and the quality isn't so hot. I don't think you'll have any doubts from what you hear, but if you do you'll just have to take my word that it was all good….plus there's also the audio geek chuckles of joy in the background to help convince you as well.
The last thing I'll leave you with is that the EQ type that Robert talks about around 12 minutes is actually a Pultec style EQ, and I believe it was specifically the EQP-1 style. In the actual breakout we had a clear view of the VENUE screen he was working on which is why I don't think it ever gets specifically mentioned.
If you want more, check out Robert's 3 day audio seminar for the full experience.
[audio:GurusChicago2011/scovi-breakout-02.mp3]
Download: FOH Mixing Breakout – Part 2
Here's Part 1 again in case you missed it:
[audio:GurusChicago2011/scovi-breakout-01.mp3]
Download: FOH Mixing Breakout – Part 1