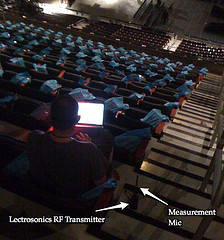 Exercising
Last week I had the privilege to hang out at Philips Arena with Ed Crippen and the guys from CTS Audio while they were putting in their PA for the Women of Faith tour. It's always good for me to see what other guys are doing and talk shop. The tour was a bit of a departure stylistically from what I'm doing so this was a great hang to get some new perspectives. We spent a lot of time talking line arrays and system optimization. Ed was tuning the rig with SysTune so it was pretty cool to see how he was using the Speech Intelligibility measurements, and it definitely gave me some things to think about.
The other cool thing to see was Ed's Lectrosonics setup for tuning the PA. He has a little transmitter that connects to his measurement mic. Then he connects his laptop to his SysTune machine running back at FOH. This way he can walk all over the arena taking measurements and tweaking the system as he goes. I've been wanting to add this to my tuning rig for a while, and hopefully it'll be something I can add in the next 12 months. I love setting up multiple mics for system optimization, but the setup and cleanup can be time consuming. It would also open up the ability to potentially permanently mount some mics in some different parts of the room. Ed mentioned that he does this during the gig.
As far as the other technical info I can remember, the rig was a Vertec rig; I'm not familiar with the Vertec stuff, but it was the smaller boxes. FOH and MON consoles were Yamaha DM2000's. They are both setup side-by-side at FOH. Something to note is that there were definitely some additions to the console via external pre's and remote pre's on stage. There was also an XTA SIDD in the rack that Ed was using for compression on handheld mics. The SIDD has a dynamic EQ in it that he was using to work on mic proximity effect much like I've been doing with the Serato Comp on the Venue. I saw Sennheiser 3732 receivers in the wireless rack along with some Shure UHF-R stuff so it was the best of both worlds there, but I heard word later on that they were having trouble with Atlanta's RF landscape and their Sennheiser mics. I unfortunately didn't get to hear too much of the rig before I had to leave, but what I heard was very clean even in an empty arena.
Thanks to my buddy John Stewart for setting up the day and talking me into it. Here are a few photos I snapped during the day. There are a few more over at Flickr.