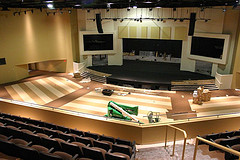 Browns Bridge

Browns Bridge Balcony View

Originally uploaded by fohdave.

This is a photo of Browns Bridge Community Church under construction. I took this about a month ago when I first arrived down here and now that they're open here's a look at the room. I'm hoping to get up there sometime in the next couple weeks, and I'll try and get some updated pictures. The room seats 2000. The line arrays are Meyer M'elodie's. Digidesign Venue's are at FOH and MON. Everyone who's been up there for a service so far says the room is amazing.