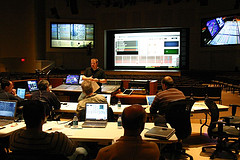 Browns Bridge Advanced Monitor Training

Browns Bridge Advanced Monitor Training

Originally uploaded by fohdave.

I spent Saturday afternoon up at our Browns Bridge campus where Chris Briley was holding some advanced monitor training for his volunteers. He loaded up a show on his FOH console and then had a really cool setup with his video screens. He had the Venue's display on his center screen with the side screens featuring cameras pointed at the control surface on the desk. It was pretty cool. A couple of our M1's were on hand to get their first introduction to mixing monitors on the Venue since the hope is to move our MON consoles to Venues at some point in 2007.
Last Thursday I met with Houston Clark from Clark ProMedia to talk about getting the designs rolling for our system upgrades at North Point. It was great to sit down with Houston since it's been a while, and I love working with those guys on these big projects. The next 12-18 months should be exciting as we move forward on the two projects. I'm excited because I had such a blast in Chicago when I did one big room with them, and now I get to do two. It's going to be an interesting year.