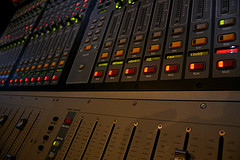 Breaking the Addiction
Sorry I've been away. I've got a lot on my mind, and I'm trying to get it all organized to maybe write about at some point. In the meantime, here's a relatively quick one. I hate to call this a New Year's resolution or a goal for 2010; it's just something I'm working on this year. You see, I have an addiction, and that addiction is called Solo-In-Place.
I can't exactly remember when it started, but Solo-In-Place (SIP) is something that I I know turned into a problem for me. Not every console has the feature so for those unfamiliar, SIP is essentially the ability to cue up a channel or channels in your PA. When SIP is engaged on a console, pressing the Solo or Cue or AFL button on a channel will mute all other channels in your PA. It can be a great tool, but I fear it is also easily overused.
Last year I started working on cutting back my SIP use, but I've been motivated more lately by some interviews I've been reading with some big name record mixers. A lot of those guys stay away from the solo button when they're mixing and prefer to only work on things in context. After all, that's the way things will be heard when the record comes out.
Of course, things can be a little different in a sound reinforcement scenario. While a portion of what I do as a mixer will only be heard in context of a song, there are also instruments I know at any given time might be naked in the PA. These can be things like lead vocals, acoustic guitars, and keyboards. So one of our challenges in sound reinforcement is to somehow make these sound good within the context of a full mix while also being able to stand alone if necessary. SIP can be a great tool for checking how these things will sound on their own. SIP can also be a great troubleshooting tool to identify specific problems with a sound.
However, once exposed to SIP, it can be very easy to start working on everything primarily using SIP. Once you start down that road, I feel you must be very cautious. When we start working on every sound in isolation, we aren't mixing. Mixing is about blending things. It's layering and making space. It's how everything sounds together, and that can't happen listening to each sound in isolation. Don't get me wrong, if you have everything sounding really good, it's been my experience that you can push up and balance faders and have things in pretty good shape. However, if I need to get stuff to play nice together, I need to work on everything together.
So one of the challenges for myself this year is to spend the majority of my time mixing things within the context of the mix. What are you guys working on this year?