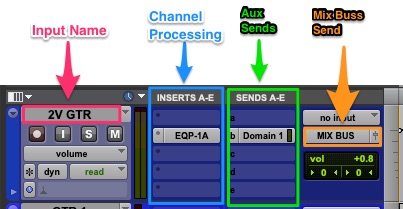 Balancing Crazy and Simple
Over the last year or two I've seen an increase in the amount of crazy going on in mixing within churches. I feel like I a new video pops up in my YouTube feed every other day with some overly intricate technique. I think it's great to have all of this stuff on techniques floating around out there because in the early days of my career this kind of knowledge was a lot harder to come by. The other side of having all this available information, though, is I see engineers getting caught up in a false idea that you have to use every trick.
The thing that gets misunderstood about great mix engineers is what they do is often extremely simple. What sets great mixers apart from a lot of guys is their ability to get a great balance going. In other words, it has more to do with how they get everything to work relative to everything else. You can study every tutorial you can find on making X instrument sound great, but if you can't get a bunch of different sounds to sit together in a musical fashion nobody is going to care. As engineers we often focus far too much on what the little bits are doing than what the whole thing is doing.
Now, that doesn't mean nobody is doing anything complicated or crazy in their mixes. What I've found, though, is most engineers often have one or maybe two things they do that border on the more complicated side of things if anything at all in their technique is a little complicated. But they're not all sidechaining and parallel whatever'ing EVERYTHING in a mix.
Speaking of this, if you see a video on YouTube with a title that says "All the pro's" do something that is anything other than un-muting or pushing the fader up, that's your cue to turn it off because it's going to be pure click-bait and likely the kind of thing you'd find in a horse pasture.
So let's look at an example. Bob Clearmountain is a reknowned mix engineer and many engineers consider him to be the best or at least one of the best mix engineers of all time. Bob has been mixing on an analog console for his entire career, however, he recently did a mix in a DAW in conjunction with Sweetwater in order to help promote his first plug-in release. While it definitely showcases his plug-in, there is also a lot to learn about Bob's approach within this small session. If you have access to Pro Tools, you can currently grab the session for yourself HERE along with a copy of the plug-ins Bob used for demo'ing purposes.
For those of you who don't have Pro Tools or aren't interested in digging deep, I have some screenshots for you along with a quick one on how to understand what you're seeing. I also went ahead and renamed a lot of the busses within Pro Tools so you can more easily follow along with what's going where.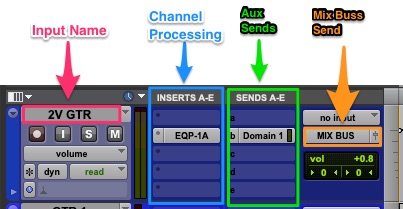 Understanding Pro Tools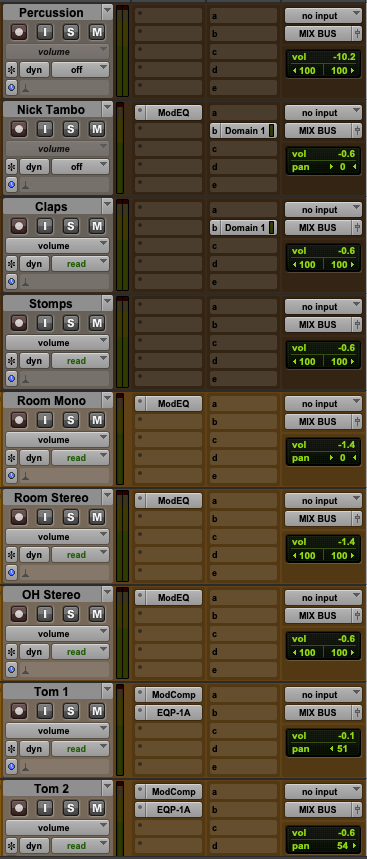 Perc & Drums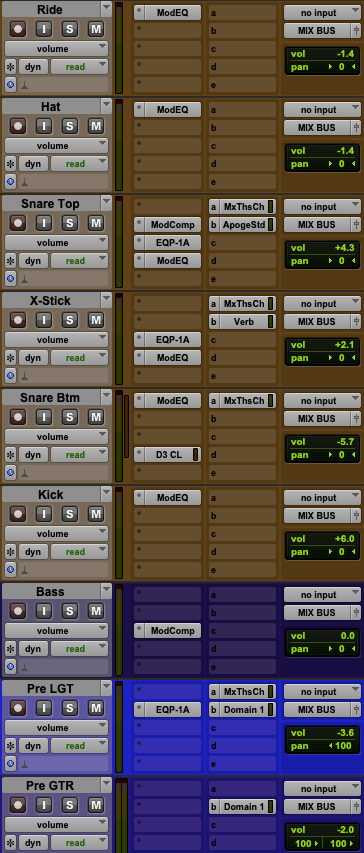 Drums cont., Bass, & Guitars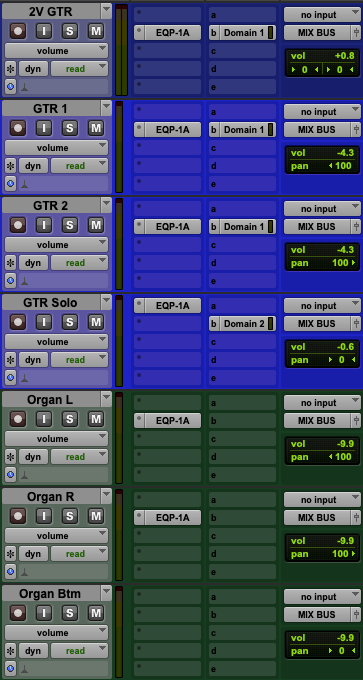 Guitars cont. & Keyboards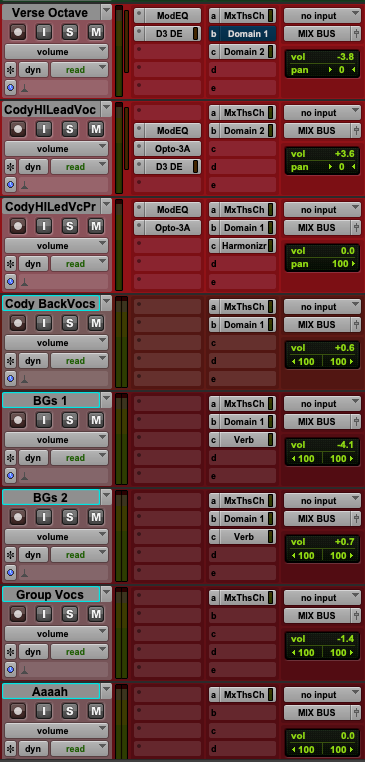 Vocals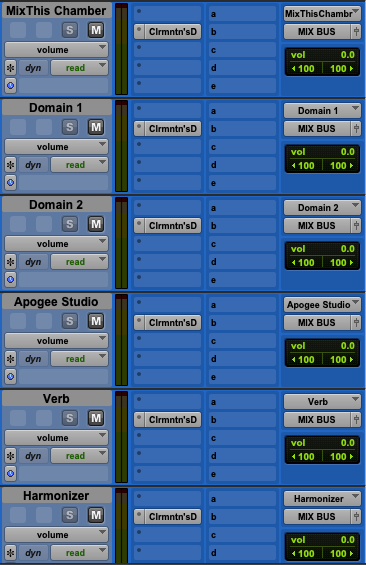 FX Returns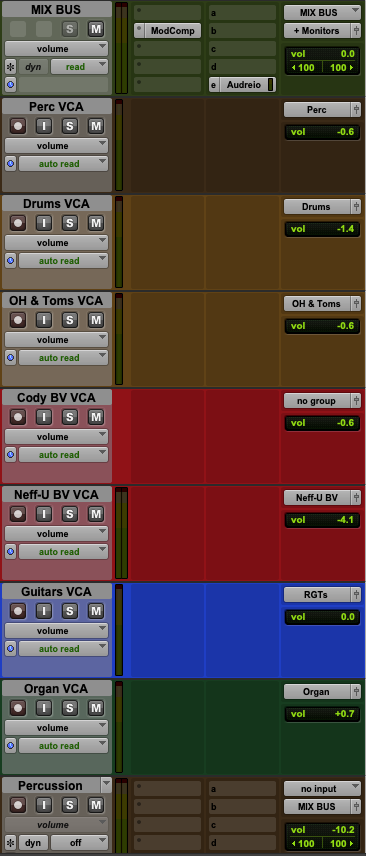 Mix Buss & VCA's
The first thing you can hopefully see here is there's a minimal amount of processing being used on each input. The "EQP-1A" is a Pultec EQ, the "ModEQ" is a basic console style EQ, the "ModComp" is a console style compressor, the "Opto-3A" is a solid-state optical compressor, the "D3 DE" is Pro Tools stock deesser, and the "D3 CL" is the stock Pro Tools compressor. It's mostly a bit of EQ and some inputs even have NO processing at all. The Mix Bus features a bit of compression, and then there are a few VCA's Bob created to help automate the mix. So there's not a ton going on here. Even the aux sends on each track are pretty simple…or are they?
The FX returns feature six separate instances of Bob's new plug-in which seems pretty simple, but FX are where things get a little interesting or crazy when it comes to Bob's mixes. The MixThis Chamber, Apogee Studio, and Verb and basically being used as reverbs. The Domain 1 and Domain 2 are a little more complicated, though.
At first glance these are delays, but when Bob uses delays things get interesting. The delays often feed into pitch shifters and might have different delay times on the left side vs. the right. They might also cross-feed from the left to right and right to left for repeats and then get fed into multiple reverbs. In this particular mix, all of this is happening within a single plug-in. On Bob's analog desk making this kind of stuff happen is a relatively easy thing to do, but it's a little harder to do in a DAW which is why Bob helped create the Clearmountain's Domain plug-in.
When I chatted with Bob at AES, one of the main things we discussed was his use of FX. The simple gist of it is he uses FX this way to achieve a sense of space and depth in his mixes. In practice, he's able to just turn knobs until things sound and feel right to him on his console. It's a little complex in how he achieves this if you analyze the signal flow, but that's his crazy when it comes to mixing.
So what's my point?
Balance is the true essence of a great mix. It's achieved primarily through fundamental mixing techniques which is why when I'm out training we spend far more time discussing these and what makes music tick within the mix balance than crazy routing schemes and parallel whatever'ing. There's certainly a place for that kind of stuff, but it's the icing on the cake. So be careful about how crazy you get when you're mixing.
If you'd like to find out how to improve you and/or your team's mixes directly, I'd love to chat. I offer a variety of options from remote coaching and mentoring through on-site training. If you'd like to find out more, you may contact me through my website or click here to set up a time we can chat.