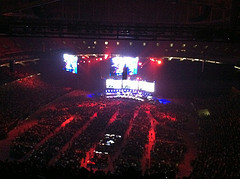 A New Year Challenge
I think this is the 3rd or 4th time I've tried writing this post. I've been trying to figure out a way to issue a challenge to mixers for 2012, but I keep screwing it up so here's my last shot.
This idea started after I landed in a lot of conversations last year discussing the musical side of mixes, and how it seems to be missing in a lot of church mixes. In those conversations many questions were raised on why that might be:
Are we listening to enough music for educational and inspirational purposes outside of mixing?
Are we being exposed to a wide breadth of music ranging from classic recordings to current trends?
Is musicality something that can be taught or is it an innate talent that can only be refined?
Are we more interested in shortcuts than investing in the time it takes to master our craft?
Are we too focused on equipment?

But after all the talking, the one question that I keep coming back to that seems to sum everything up for me is this: Are we just losing sight of what we're doing?

I don't know. I'm still mulling it all over.

The other night I had the privilege to watch and listen to James Rudder mix Hillsong United at Passion 2012. This was the second time I've been able to stand over his shoulder, and the thing that always stands out to me is Rudder never seems to get lost in the gear. Sure, the gear is important which is why certain things get asked for, but when it's all said and done I just don't see him lost in it even in spite of any technical challenges. He pushes up the faders and mixes, and the music hits hard. Read that again: The MUSIC hits hard. His mixes never seem to be about the gear. They are about the music.

Do we all get that? Have we grown more interested in a sound than a song? Are we more interested in pieces of plastic and metal under our hands than the human beings on stage and surrounding us?

I don't know. Again, I'm still mulling it all over.

So here's my challenge for all of us mixing this year. In 2012, can we push ourselves to talk/think/focus on the MUSIC at least as much, but hopefully more, than we do on the gear? Can we keep the message we're facilitating in the forefront of our minds this year when we're sitting behind a console?

What do you think?