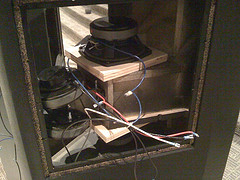 Year of the System: Surgery
Here's a brief taste of how my week started. I'll save the details on how and why for another time, but this week we are replacing all the drivers and crossovers in our mains. Today was speaker surgery day, and it turned out to be a project far beyond anything we ever imagined. All day and night we poured sweat and shed blood trying to take these things apart and replace the components. Thankfully we got everything back together tonight before they could lock us out of the building, but we never could have done it without all the help we got from our rockin' volunteer reinforcements who came in last minute to give us a hand.
Tomorrow the boxes go back in the air, and I'll spend the rest of the week re-tuning the entire rig. I'll have more as the story unfolds….