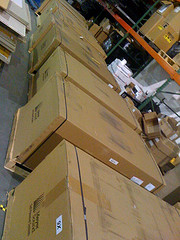 Year of the System 2010: Counting Down
Well, I guess a lot of people could have predicted this, but I'm going back on my last post and starting to talk about the system changes we're implementing. After today, we have one Sunday left on our current PA in the east auditorium. We literally start work on installing the new rig on Easter. So here's a quick overview of what we have ahead of ourselves over the next few weeks.
The project is three-fold. Phase 1 is the replacement of our east auditorium loudspeakers. Phase 2 is a refit of our cable harness. Phase 3 is a refit of our west auditorium loudspeakers and drive system. Phase 1 and 2 will run concurrently starting on Easter Sunday beginning with the demo of our amp room setup and removing the east auditorium loudspeakers. Phase 1 and 2 will be completed in time for the following Sunday. The following week we'll start Phase 3 which involves changing out the main loudspeakers in the west auditorium with the original loudspeakers from the east.
This week we'll be doing final prep for the swap next week. We're pulling in some new cables for the new loudspeakers. We'll also be checking that everything in the amp room that we're retaining is properly labeled. This will be things like our lines to and from video world, the infrastructure for our wireless mics, the interconnect between our amp isolation cabinets, etc, etc, etc. I also need to move some of the output cards around in our console stage racks to make some room for another output card I'll be installing to feed the new PA. It's going to be a busy week especially with Easter in there somewhere, although, if we can get through the big cable pull on Monday I think the rest of the week will be pretty simple for us.
As time permits, I'll try and post photos of the process, but no promises. There'll also be more info coming over the next few weeks as we grow into the new setups.