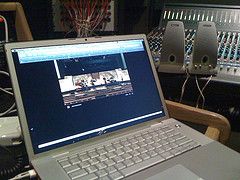 Webcast: Thursday November 5 @ 7:30pm est.
Sorry the posts have been thin for the last few weeks. I have some in the pipeline, but they're not quite ready, yet. However, I wanted to give you guys a heads up on something coming up fast.
This Thursday night, November 5, North Point Online will be streaming a Night of Worship taking place at North Point, and I will be in the studio for the evening mixing exclusively for the webcast. I will do a breakdown of the whole thing in the near future looking at the different approach for the "broadcast" side along with the technical stuff, but in the meantime I wanted to put the night on your radar if you want to get a taste of it before I talk about it. The event starts at 7:30pm Eastern and will run around 90 minutes.
Next week I'll be at Dirt Conference in Little Rock, but once I'm back I'll try and start getting some of those incubating posts up.