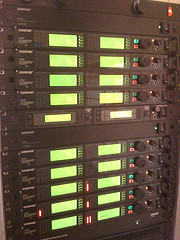 Tips from the Pros – Lock 'Em Up
Here's something simple that can really save you when using wireless microphones: Lock your mics.
Most professional wireless microphones have the ability to power and frequency lock the transmitter and receiver. This is especially handy on the transmitter because a locked microphone can't be inadvertently turned off or reprogrammed. In essence, locking a wireless microphone makes it a hardwired mic that is always on until the batteries give out.
Whenever we put batteries in our handhelds, they get locked on. I typically just pull the batteries these days and leave the mics on and locked at all times. The same goes for most of our beltpacks except in some specific cases.
Occasionally we'll get pushback from someone using a headworn/lav mic that they need to have control so they can have conversations without worrying about someone listening in. We try to stay very flexible in these cases and just make sure the talent understands it is their responsibility to make sure they turn their mic on before going on stage. When we find someone can't handle that responsibility on a consistent basis, we lock the mic. The Shure Axient system has a great feature that allows you to lock the transmitter remotely from Wireless Workbench. While we were testing the system, I put that feature to good use when these types of situations arose.
In the future systems like Axient will likely be able to automatically mute and un-mute transmitters when talent walks into a stage zone. But in the meantime, it's always a safe idea to just lock the mic on whenever possible. I'd suggest you consult your user's manual and learn the procedure for locking your mics. Then print out the process and post it where you store your microphones.