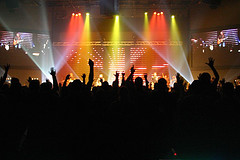 Thirsty 2007: Day 5 – The End
We had one session this morning featuring Tomlin, Redman, and Kristy Nockels. On my end it was probably the most laid-back session of the entire conference, and again I enjoyed the simple pleasure of just enjoying it.
We were a little nervous going in, though, because the mic we had Chris on last night was giving us trouble so we had to move him over to the KSM9 instead of the Neumann KMS105, and we didn't get a soundcheck with him this morning because he was doing a breakout. But once we got into the session it seemed to work (although I preferred the Neumann from last night…).
I can honestly say I had a lot more fun working the conference than I thought I would. The folks from Passion and Scot Carter Productions were great to work with. It was a privilege to be involved with this. However, I'm not sure I'd opt to do this again. It was a great experience especially given the chance to work with some "celebrities", but my heart is working for the local church right now. This was a contract/side-gig for me this week, and I'd much rather be spending my time away from my family focused on working towards the vision and mission of my church.