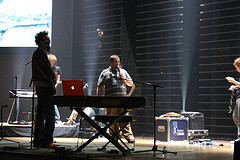 Thirsty 2007: Day 03
Today was a pretty good day. I have to say that I was walking into this conference with a bit of trepidation, but things were good today. I got to hear Francis Chan for the first time with a great message on humility. Charlie Hall was great, and then Crowder rocked the place tonight. I've enjoyed Crowder's records, but they don't do the band justice. Live and loud is the way to go with them. Jeff Sandstrom is mixing the conference, and it sounded really good today. The D&B rig is really growing on me. All of us audio staffers were talking about it tonight, and how we're all digging it.
The highlight of my day, however, was watching our associate audio director, Luke, working with the David Crowder Band; he's holding the mic in the picture. I met Luke at my last church where I worked with his dad. He was involved in audio with his church at Ball State, and he was always wondering if I was looking to hire an intern for the summer, but unfortunately we didn't have the resources to do this at the time. The last weekend I mixed at my last church Luke was home visiting his folks. I knew I was going to need to hire an assistant down here so I asked him if he was interested in applying. He was a little hesitant at first, but obviously he got over that and ended up on staff working for me which, by the way, is maybe one of the worst jobs anyone can have. Over the last few months it has been cool to watch him grow on staff, and it culminated this afternoon.
You see, Luke, is the biggest David Crowder fan in the entire universe. Where some might have been concerned that Luke might geek out a bit, Luke was super cool and professional despite the craziness of trying to get the David Crowder band wired up; they were using a lot more gear than the other bands so it got pretty confusing trying to get them tied in to our pseudo-festival setup. But Luke managed to get them wired up while helping them through soundcheck. He looked like a kid in a candy store. There's just something cool about getting to watch someone do something they never thought they'd ever get to do. Great work, Luke.
You can see more photos from tonight over at Flickr. Just follow the link in the sidebar.