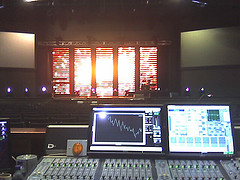 Thirsty 2007: Day 1

Thirsty 2007: Day 01

Originally uploaded by fohdave.

Today was Day 1 for me on Thirsty. The conference starts Wednesday afternoon, but they loaded in today. I found my next gear purchase: a tablet PC. The system tech for the rig they flew had one, and it would make remote mixing on the Venue and handling system tuning stuff a dream over using a traditional laptop. Every time I walk around the room with my laptop open I feel like I'm going to drop it. I'd close it until I get where I need to be, but then I have to sit and wait for the wireless to reconnect which is always ten seconds after I wanted to tweak something that was playing. I'll try and get pictures of it tomorrow when he's finishing tuning the rig. It just looks like a great tool to have.