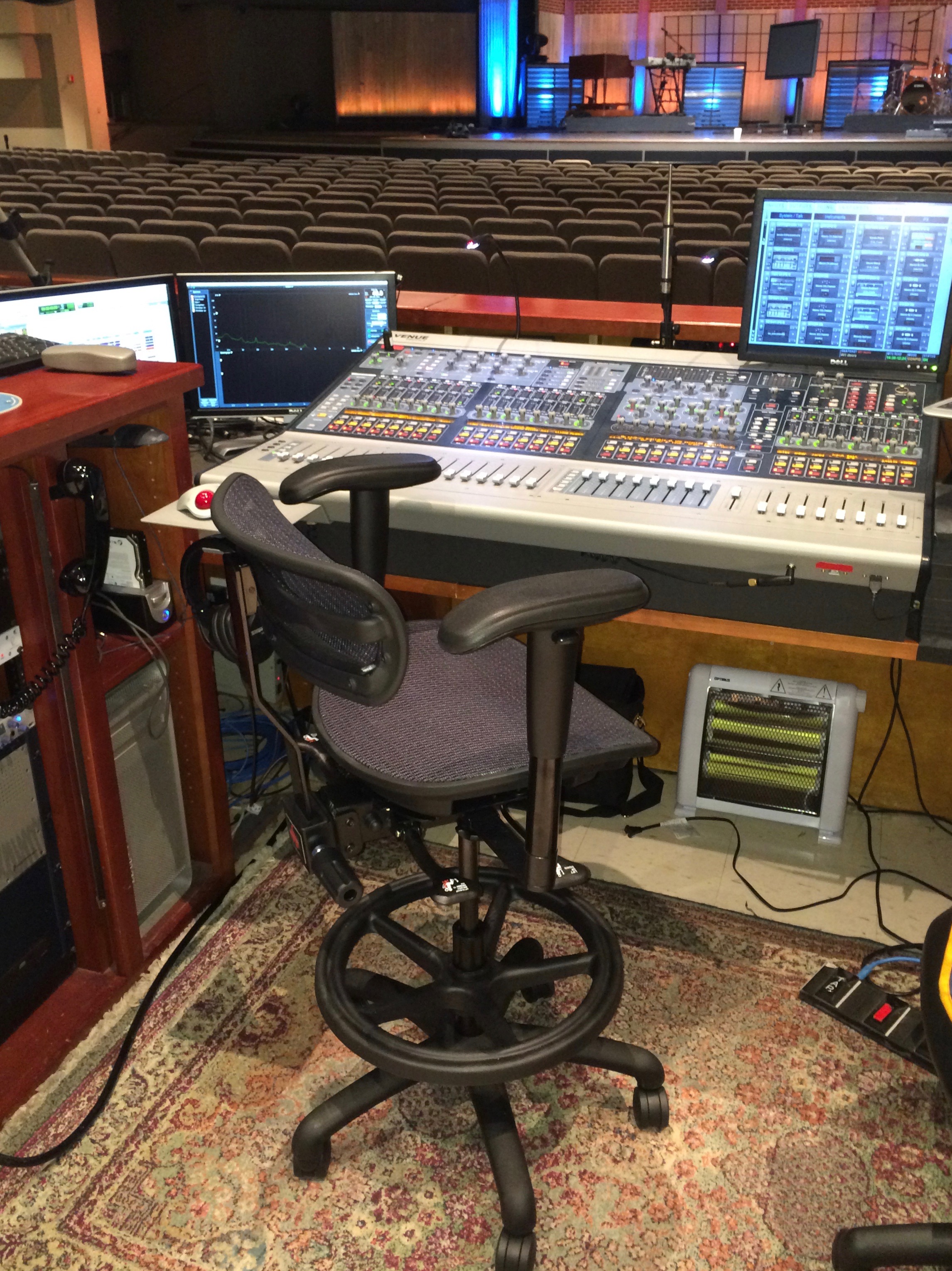 My Favorite Seat
Let's be honest, furniture is not the most glamorous side of what we do in the world of audio production. It doesn't have any fancy meters or directly make your drums sound better so for all intents and purposes it shouldn't even show up on our radar. But the furniture side of things–or to be more specific–the ergonomics side of things has increased in importance for me over the last few years as more and more I've started feeling the effects of the years I spent hunched over live sound consoles installed in less than ideal positions.
In addition to live sound work and training, these days I'm also spending a fair amount of time in my studio where I've been seated all day long in a continually deteriorating generic office chair which hasn't been doing my back any favors, either. I figured it was time to look at getting a better chair so I reached out to Steve Knight at Ergolab, and he sent over the latest model of his Stealth Pro Executive chair to check out.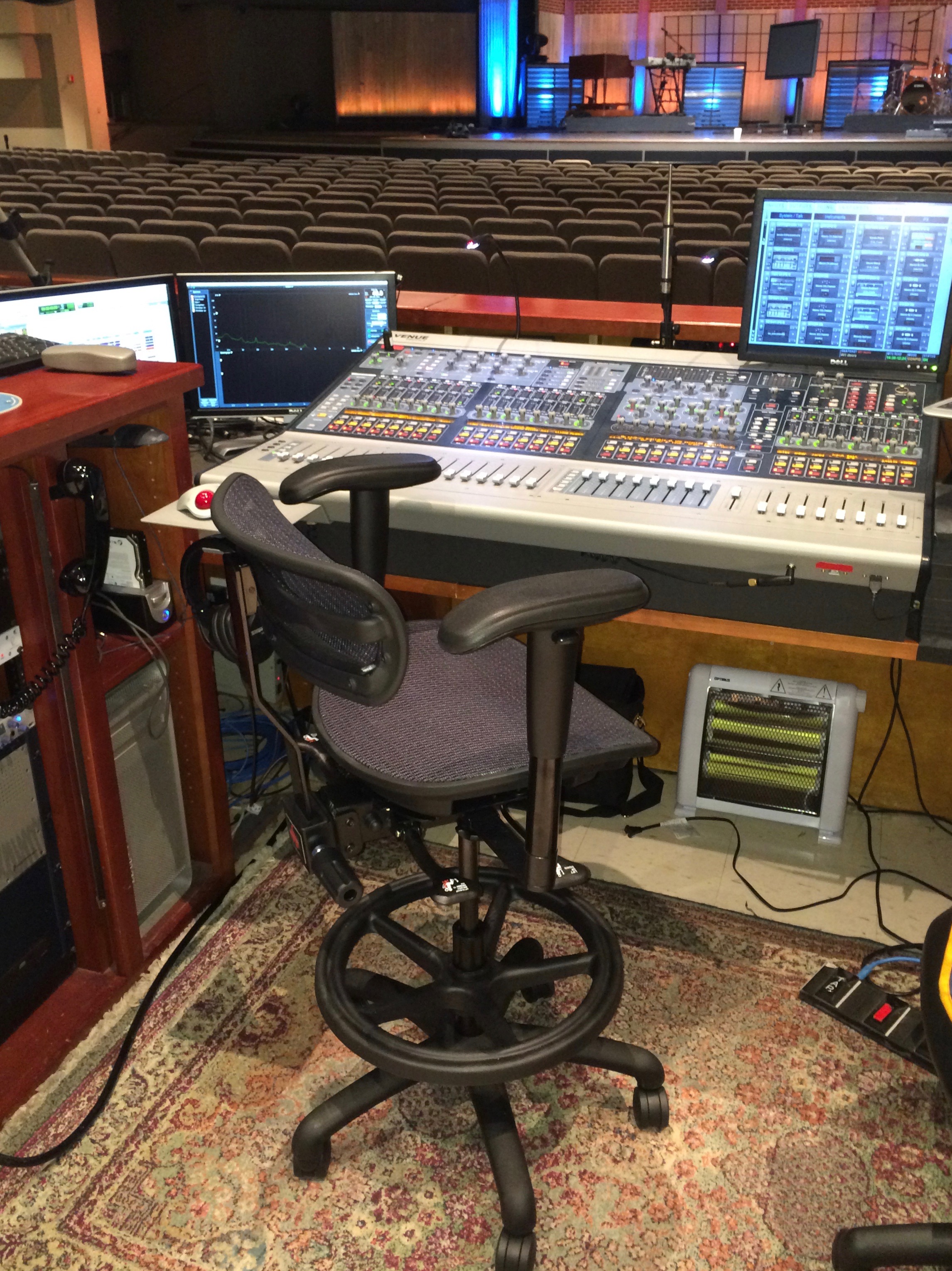 Stealth Chair at North Point – 2014
If you're not familiar with the Stealth chair, it is the only chair I've found designed for what we do in the world of audio production both live and in the studio. My first experience with the Stealth came in early 2014 while I was still on staff at North Point. We had just installed a new motorized standing desk for the FOH console, and I wanted a new chair that could get up high enough to use with the console at full height when I didn't want to stand to mix. The Stealth fit that bill nicely because it came with a piston for traditional desktop heights as well as a taller one more along the lines of what a drafting chair provides. There was more to it, though, because one of the other big selling points was the Stealth chair was designed for back health, and these are my favorite features.
When I'm at a console sitting on an average chair, I'm usually sitting on the front edge of the chair because I'm reaching forward all over the console and shifting forward and back depending on what I'm reaching for. Something I've noticed with a lot of average office chairs, though, is it's not even physically possible for me to sit all the way into the chair and work on a console. On the office chair I had in my studio, if I sat so the front edge of the seat came right to my knees, there was at least two inches between me and the back of the chair. So the only way to sit against the back of that chair was to slouch which puts extra pressure on the lower back and probably isn't good for my neck, either. I'm about 5'10" which is maybe an inch or two taller than the national average so I can't imagine I'm the only person with this issue.
So what's so special about the Stealth chair?
First up for me is the depth of the seat. I can sit all the way back with my legs hanging comfortably off the chair. More importantly, though, the seat moves with me. Take a look at the diagram below.


Diagram courtesy of Ergolab
The position I'm typically in while mixing is somewhere between Declined and Active/Dynamic. The thing I love about the Stealth's seat is it naturally shifts for this with my body weight. When I lean forward, the seat leans forward. When I sit back to listen a bit, the seat tilts back with me. I find the seat itself very comfortable to sit on, and the design of the mesh keeps me from slipping forward no matter how far forward I lean. It feels very natural to work in, but maybe the more important part is this shifting seat helps keep me keep from putting extra pressure on my lower back so I'm not in pain when I finally emerge from my studio cave.
The other cool thing about the chair is the backrest. Like the seat, the backrest features a mesh design, and the mesh and low profile design ensures minimal acoustic reflections for audio snobs like me. An additional feature also allows the backrest to float which lets the backrest move with you as you lean forward and back. It feels really nice when you're sitting for long periods of time. All together, the backrest coupled with the seat makes the chair feel like it just fits me.
When I purchased the first Stealth chair at North Point, it didn't take long for me to order a second one for our other auditorium, and since that time I've seen these chairs become a staple in the touring market for good reason. I do know there are a few people out there who weren't complete fans when I purchased those original Stealths, so let's talk about what's different on the latest Pro Executive model I've been using.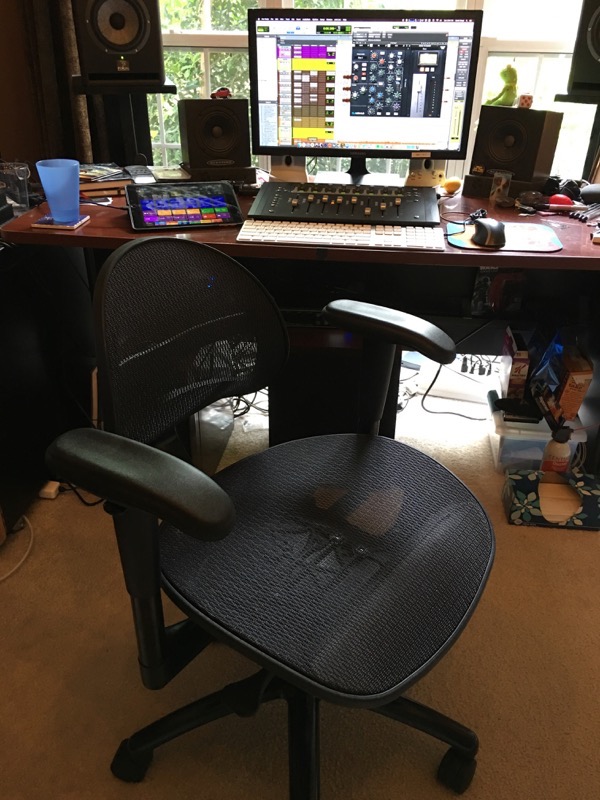 Stealth Pro Executive
First up, the legs of the base are all metal making for an even sturdier design. There were also some heavier duty castors included which I would definitely take advantage of in a live production setting, although, in my studio the standard ones are more than adequate.
The next big difference with the Pro model is a larger seat. I liked the standard size seat, but I feel like the larger seat is a better fit after sitting in the chair on a daily basis for a few weeks. I checked with Steve for more information on the sizes, and according to Steve, the standard model is designed for folks under 6′ tall or 200 lbs while the larger Pro model is for folks over 6′ or 200 lbs. I can fit in the standard size because I'm right on the bubble, but I am appreciating the larger size chair which adds a couple inches in width and about 6″ in depth to the seat. If I was outfitting a FOH area or control room with these, I would probably take a look at the current team and use a mix of standard and Pro models.
Another notable change is the Executive backrest which extends a little higher than the standard backrest, and this is a change I think some folks may prefer. The Executive backrest provides the same benefits as the standard one while offering more support in the middle part of your back to make it a bit better for reclining. Both backrests are fine for me, but I think casual users may prefer the Executive backrest because of it's larger size.
Now, a couple of things about these chairs. I don't think of the Stealth as a lounge-around-in, sit-back-and-kick-your-feet-up kind of a chair. It's a work chair that's comfortable to be in for long periods of time while you're working. You can definitely lean back in it for a long sermon, but it's not the kind of chair I would take a nap in and that's probably a very good thing for any production environment.
I think the chair also works best when you customize it for yourself. This is really easy to do because the controls are within easy reach while you're seated, and I think it's pretty natural to want to adjust things when you sit in it. Start with the seat height, followed by the seat tilt, and then get the backrest height and angle where you want them. The levers are large and arranged around the chair so you can start on the right and systematically adjust them in a clockwise fashion. I think taking the 15-30 seconds to follow this process and adjust things provides the most comfortable experience along with the best benefits for your back.
One last thing I want to say here about this chair is at first glance the Stealth may look a little costly for the average church, but I'm not so sure that's actually the case. I visit a lot of churches these days and one of the common threads I run into are poor chairs at FOH and throughout production world. I find chairs that aren't tall enough. I find chairs without wheels. I find a mish-mash of styles that make the FOH area look like a mess. More than anything, though, I find chairs that are falling apart and hear about a lot of regrets on the chairs that were chosen and purchased. I don't understand why people are spending so much money buying chairs that nobody likes.
If that's your church, stop buying the wrong chairs over and over again and take a look at the Stealth. It's not just made for a production environment, these chairs are out on the road going on and off trucks day in and day out which means they're durable. They look good and there are multiple options so you can get the right size chair at the right height for your production environments. Plus it's a comfortable chair that is easy to work in. Is there anything else you really need out of a production chair?
You can find out more about the Stealth by visiting Ergolab's dedicated website and don't be afraid to reach out to them if you have questions. Steve Knight is often at tradeshows as well so be sure to check out his booth and say hello.
So, have you tried out the Stealth? What did you think? Let me know in the comments.