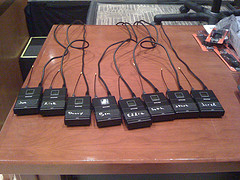 Making the iBand
So you might have heard by now that last Sunday we did a few songs featuring a band made up of all iPhones and iPads. By the end of the segment there were a total of 10 players on stage all using iPhones or iPads. A variety of apps were used for different instruments ranging from percussion to guitars to keyboards to the I Am T-Pain on vocals.
All-in-all, the whole thing was pretty straight forward from a technical standpoint. Getting the iPads and iPhones interfaced into our system was the hardest part of the whole deal. 8 of the 10 musicians were wired up with some of our RF bodypacks with 2 of the musicians hardwired and plugged into DI's on our risers. Everything would have been RF, but we ran out of available RF channels.
A 1/4″ to 1/8″ adapter was used on instrument cables to convert the standard instrument cable to fit in the consumer headphone jacks on the i-devices. The biggest challenge lay in the fact that not all adapters seem to be manufactured equally. The first batch I tried didn't fit on the instrument cables and wouldn't snap into place. These were stereo to mono adapters and while they would connect and I could get a signal, the connection wasn't stable and susceptible to noise anytime the adapters moved. I tried jury-rigging them, but in the end decided to replace them since some of the iPhones would be getting shaken for some of the apps. Fortunately my friendly sales associate at Full Compass, Shawn Tallard, hooked me up with another batch of adapters that fit.
The other challenge was simply in getting output volumes right. Since the iPhone/iPad outputs were headphone jacks, we had to watch input levels on the wireless side to make sure the packs weren't being overdriven. Dustin Whitt was mixing for the house that day, and he also mentioned that the T-Pain app used on vocals had its own challenges since the iPhone's internal microphone auto-adjusts and required a bit of chasing when mixing.
Outside of all that it was just a matter of our guys mixing everything while I got to sit back and just enjoy it.
If you haven't seen the video yet on CNET, Gizmodo, or TUAW, here it is for your enjoyment. Merry Christmas!
North Point's iBand from North Point Web on Vimeo.