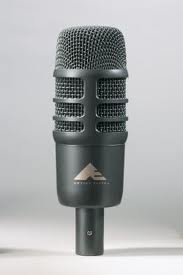 Kick Drum Obsession
Here's a quick one on even more drum stuff.
I don't know why we seem to obsess over kick drums, but we do. I've been playing around with a different kick mic as of late, the Audio Technica AE2500. I picked it up a couple years back, but never quite got into it. It seemed good for some things, but not for most of what we do at the time. But lately I've been looking to try something a little different so I put it in the kick, and I think I'm gonna leave it there for a while and see what happens. Mainly I'm liking it because in my room it seems to be a lot easier to get a nice chest thump which isn't easy to do on our rig.
The AE2500 is a dual element microphone. Robert Scovill actually turned me on to it because the elements are phase coherent. The mic features a condenser and a dynamic element.
I'm embedding a little sampling of the mic for you to check out from a rehearsal. You're going to hear some different things in the demo. This wasn't scientific. I just muted and unmuted things and bypassed some processing. Here's a breakdown of the sample:
Kit – dry
AE2500 – mixed :12
Condenser only :17
Condenser – direct :20
Dynamic only :28
Dynamic – direct :31
Full Mix :43

You can tell when it's the direct feed from the mic because all the gates and processing will open and there will be added bleed.

[audio:AE2500demo.mp3]