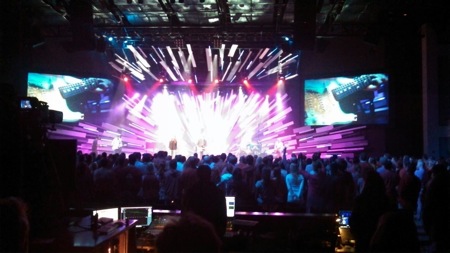 It's Called Mixing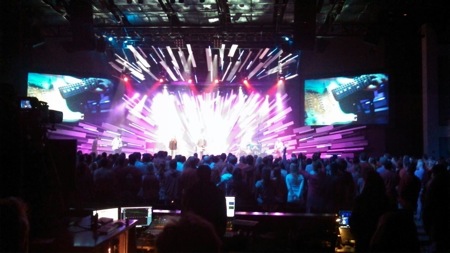 Subdue the vocal effects and pull the band back at the top so the singer can say something profound.
Get the band back up and push the lick in the intro.
Pull guitars back a bit in the first verse. Make sure the vocal effects are back in.
Always ride the vocal.
Push the pad and add a little delay to the vocal for the ethereal first chorus.
Guitars go back up and push the lick in the next break. Take the vocal delay out.
Pull the lead guitar back in the 2nd verse. Nudge the eighth note palm-muted guitar up a bit and let the kick, snare, and hat drive.
Big epic pad needs to come up in the pre-chorus. Ride the drums up with the build.
Drums, guitars, and keys VCA's go to unity for the big second chorus. Put the split harmonizer in. Don't miss the harmonies.
Hit the sub-harmonic generator in the bridge. Kill the split harmonizer.
Drums and vocals in the first pass of the last chorus. Long and epic verb on the snare.
Everything in for the last chorus. Drive the guitars and the strings.
Push the lick in the outro. Add the vocal delay to the improv stuff and push it for the trash-can ending.
Now press Next.
—-
What?
You just stand there?