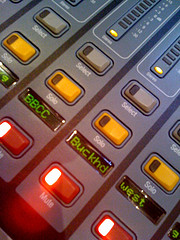 I Was Told There Would Be No Math
Once again, my job continues to require the use of math. It's basic math, but it's still math. I thought my job was cool, but math is not cool. Hmmmm….
Here's a word problem for you:
Billy has a band. Billy's buddy Tommy also has a band, and the two want to get their bands to play together AT THE SAME TIME, but their bands are 20 miles apart. Joey hears about this and says he wants his band to join the club, too, but Joey's band is another 20 miles in the opposite direction. It just so happens that Billy has a friend named Max, and Max has some crazy voodoo technology stuff so that Billy's friends' bands can all play together. But even with this voodoo stuff, if Billy's and Tommy's bands are 20 miles apart, and Billy's and Joey's bands are 20 miles apart, and Joey's and Tommy's bands are 40 miles apart, how bad will the transmission delay be between all the bands? Will it be like middle school recorder concert bad or will it only be garage band bad?
This was our challenge for the week. We knew it was coming, and if you read into my post about the London's a couple weeks ago you might have seen this coming, too. This week we synched up all three of our campuses to do a multi-campus medley. It was a vision casting Sunday, and the theme was together so the medley featured songs with the word "Together" in the title. I'm not sure "medley" is completely accurate because each of our stages did a snippet of a song with a beginning and end. The songs didn't necessarily seamlessly flow into one another, although, there was a definite flow. We had Browns Bridge starting off with "Happy Together" as made famous by the Turtles. Our West Auditorium followed with "Come Together" as made famous by the greatest rock and roll band of all time. Buckhead slid in next with "Let's Stay Together" made famous by the Reverend Al Green. Then finally our East auditorium brought "Join Together" as made famous by the Who. But who would be satisfied with just that. Then we had all four stages join together to finish off "Join Together". 4 bands on 3 campuses in 3 different cities. So how'd we do it?
Like I said, we knew this was coming when the decision to connect all our campuses together happened last year so this scenario was built into the system when I designed the program for the Londons. However, even with the infrastructure in place there were still some variables to figure out. First up was figuring out the latency in transmission between campuses. I'll try not to melt your brain with this stuff because it can get crazy if you think too hard about it.
We did an initial test about four weeks ago where we simply fed some music to our Browns Bridge campus and returned it to North Point. We recorded both feeds in Pro Tools and measured an initial round-trip time of 180 milliseconds. The good news was we had some stuff configured wrong on our end and were able to knock that time down to about 92 milliseconds round-trip between our campuses. North Point serves as the hub for our system so this gave us about a 46 millisecond transmission time to our other campuses. 46 milliseconds may seem like a short amount of time–it's barely more than a frame of video–but in musical terms, it's quite noticeable. 46 milliseconds is an echo.
Think in terms of how this would play in the context of our performance this morning. A master click track would start on the East stage at North Point and transmit to campuses. The click would arrive at Browns Bridge 46 milliseconds later cueing Browns Bridge to start playing. From the Browns Bridge perspective, they would be right in time with North Point.
Back at North Point the return of the Browns Bridge performance would happen after another 46 milliseconds. In the ears of NP musicians, they would have the click playing BUT they wouldn't hear Browns Bridge until 92 milliseconds after the initial click. So Browns Bridge is 90ms late relative to North Point at North Point.
In this initial scenario, Buckhead would hear the same thing North Point hears. Browns Bridge would be 92 milliseconds behind the click due to the 46 millisecond travel time from BBCC to NP and then another 46 to Buckhead. So Browns Bridge is 92ms late relative to Buckhead at Buckhead. When the NP West auditorium starts, however, they would appear to be right in time at Buckhead since they would follow the click already being sent from NP. Are you following so far?
One of our volunteers, Chris Lawton, had a good suggestion for us. Chris worked in radio for a long time, and they used to do these kind of link-ups all the time. His suggestion was to delay the click to our local musicians. After running some scenarios, we settled on delaying the click to our local NP musicians one transmission length or 46 millisecond to distribute the delay a little better across campuses. There was nothing we could do about the time between Buckhead and Browns Bridge, but by doing this we could tighten things up at NP.
So here's where we landed. Click starts at NP and is sent to campuses. 46 milliseconds later BBCC hears it. At that same moment, our local musicians at NP hear the same click so now the return from BBCC is only 46 milliseconds late instead of 92. Of course, North Point now seems to arrive 46 milliseconds late at Browns Bridge. If we were to delay the NP click locally the full round-trip length of 92ms, we would have fixed all the timing problems at NP, however, our campuses would have suffered the same as NP did in the initial scenario which in our world improves nothing.
Of course, the fact that there would always be transmission delay created a musical challenges. To counter this, our music folks devised a pretty simple solution of sustained endings on the tail of each song in the medley to smooth over the transition from one campus to another as much as possible; I can't speak for our other campuses, but it felt pretty natural in our room. At the end of the medley when all campuses joined in on "Join Together", each campus simply took their local stage and dropped anything remotely transmitted while our video folks still switched between campuses. Locally at North Point where we have two auditoriums we were able to pull up the opposite auditorium or at a minimum some musical elements since there were no timing problems between the two.
There was still a bit more to this in getting all the bussing right, but I'll save that for next time…
---
Currently Reading: