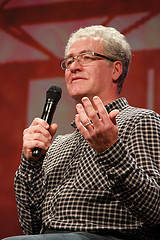 Gurus Chicago 2011 Bootleg – FOH Mixing Breakout: Part 1
Photo by Matt Satorius
This is part 1 of Robert Scovill's breakout on mixing. There was a ton of great stuff in here. Robert is a friend and mentor and I've heard him teach on several occasions, and I still took some new stuff out of this. The room was packed, and Robert was gracious enough to stick around and keep going beyond his scheduled breakout time. This is the first part of the talk.
Something to note is that I've removed some portions of content because part of the breakout was Robert doing some demo's using material from a show he'd recently mixed. I could argue Fair Use and include it, but when I think as if I was the artist, I wouldn't mind the material being used in a classroom but floating around the internet is a different story. You'll be able to identify when demonstration content was removed because it will fade out.
I will try and get as much out of the second part of the breakout as possible, but I'm not going to promise much right now since the bulk of it was Robert demonstrating how to build a drum mix, and I'm not sure how it will translate.
In the meantime, there is still a TON of great information here, and I think this is a must-listen for any audio guy turning knobs in a church setting. There's about an hour of material here, and if you're getting a lot out of it I strongly suggest you check out Robert's 3 day audio seminar for the full fire-hose experience.
[audio:GurusChicago2011/scovi-breakout-01.mp3]
Download: FOH Mixing Breakout – Part 1