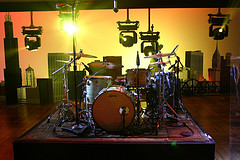 Drum Time Alignment Demo
Here is the awaited demonstration of what I've been doing with time alignment on drums. The only caveat I have for you is to make sure you listen on a decent playback system. When I did this in the studio the results were clear, and when we listened back on our PA the results were clear, but when I listen on my MacBook Pro speakers it's not so clear. So I guess if your sound system is a bunch of MacBook Pro speakers, you're not going to get much out of this.
This is a quick demo so it's only going to demonstrate the results of two mics, but it will give you an idea of what this does. Basically in the demo you're going to hear the close mic on the snare along and the overhead with zero EQ on the inputs. You'll hear each mic on its own and then a combination of the two. Finally I apply delay to the snare mic to time align it to the overhead by delaying it to the arrival of the snare in the overhead.
A couple of quick things I forgot to mention in the demo. When I play the 2 sources together with alignment, at the end of the sample the time alignment is turned on for the ENTIRE buildup and fill, but not the pre-chorus assuming you can tell where the pre-chorus is. I also mention that the delay used is about 110 samples. This is about 2.5ms. If you're going to try this you probably don't need to go all the way to the sample level. Since I do all my delay measurements in Pro Tools it's very easy to work at the sample level, and I figure the closer I can get with initial measurements and settings, the better off I'll be due to any shifting mics through the set from vibrating risers. However, you could probably get the same measurements by measuring the distance of your source to the two microphones and then using the difference to delay the closest to the furthest; remember 1 foot is approximately 1 millisecond of time.
[audio:timealignment-demo.mp3]
timealignment-demo.mp3
UPDATE
Here are some drums in context of a band mix. NOTE: This isn't a FOH board mix. This is more of a "broadcast" style mix that makes use of the same alignment techniques.
[audio:drumcontext.mp3]