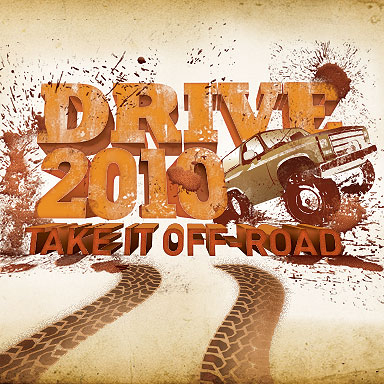 Drive 2010 Survival Guide
Sorry this is a little later than usual, but prep for Drive has been occupying a lot of time and energy. First let me say that for those of you who aren't coming down this year, you can stream the first session live Monday night at 7:30pm EST here: http://northpointonline.tv/drive/.
If you're looking for me at Drive, I'll be mixing the first session and hanging out at FOH for most of the rest of the main sessions stealing more tricks from Dustin and Chris.
Once again, here is my survival guide for Drive attenders primarily geared towards production folks:
---
Dave's DRIVE 2010 Survival Guide
MAIN SESSION TIPS
So let's talk about the most important thing for production folks: seating. For those who will be attending Drive for the first time, I'm going to once again issue a warning: People can get a little crazy about coming in and getting seats. So if you're at the front by the doors when they open, be ready for folks behind to run you over. It can be a mad house. I do, however, suggest you get there early to get a good seat for the main sessions. Most people are probably going to line up in the main hallway, so if it was me I would try and line up around the corner by the side doors.
So seating this year is a little different because the new PA offers us really good coverage and much greater consistency than ever before in the room. From an audio perspective, you really can sit just about anywhere. That said, there are a few things to keep in mind. Personally, on the floor I like things closer to the middle where you'll get a little bit of imaging from the left and right arrays. The center seats also feel closer to the stage if you're into that. If you like a lot of bass, the first two rows currently thump a little more than the rest of the room, BUT keep in mind those two rows tend to be the most sought after seats, and I've seen people do crazy things to sit in them.
If there are any seats I would say to avoid it would be the far left and right sections up front. These seats are literally perpendicular to the stage, and it's just not a great view unless you want to be able to see the audience reactions. Some of us wonder why we leave those seats in for conferences.
If you are easily distracted by production people and their gear, I highly suggest you sit away from FOH. It's very hard for folks like us to get a break and experience things so I suggest you do yourself a favor and try and steer clear of the tech for at least the first session. The rows directly in front of FOH might be the perfect seats for you.
***
QUERYING PRODUCTION FOLKS
We are always up for questions and would like to answer as much as time permits us over the course of the conference. The best time to find us is immediately following the main sessions. Audio folks are best found at FOH along with our producers. If you're a lampi with lighting questions, our lighting booth is located in the large, elevated booth behind FOH on the other side of the aisle.
***
SURVIVING THE AREA
One thing new this year you should know is that the pollen has been really bad so be prepared if you suffer from seasonal allergies. Pharmacy locations are below if you need to run and get something.
Atlanta traffic is quite simply a nightmare. Keep that in mind before you go anywhere, and you'll probably survive. Georgia 400 is sort of the main highway/expressway/tollway/freeway running between our campuses, and this is where you'll probably encounter the worst of the traffic during rush hour. The traffic can be very inconsistent from one day to the next so just be prepared to hit it and leave a bit early when you can. North Point Parkway also gets pretty bad starting around 4:30pm, however, I have found it is much easier to go south on North Point Parkway coming out of the church at that time of day. To get to 400, I will take North Point Parkway south to Haynes Bridge (go west) and get on there instead of going north to Old Milton where the left turn lane gets backed up. Note that if you do go south on NP Parkway around rush hour, make sure to stay to the right until you get past Kimball Bridge Road–the left turn lane gets really backed up into the left lane, but the right lane tends to move right through.
If you need supplies of any sort, the nearest grocery store to North Point is probably Publix. It is located west of 400 on Old Milton at the corner of Old Milton and Haynes Bridge Rd. If you take that a little further west to the next light you will hit a couple pharmacies (Walgreens and CVS). Traveling south from North Point on North Point Parkway will take you towards a lot of shopping where you can also find a Target (they have groceries as well) along with North Point Mall where you can find an Apple Store if you need one. There are also a lot of chain restaurants that way(Cheesecake Factory, TGI Fridays, Ruby Tuesdays, Steak and Shake, California Pizza Kitchen, Fuddruckers, etc.).
Gas stations are always hard to find when you need one. If you're in a rental car, I highly recommend filling up before you drive back to the airport because I have never found a gas station near the airport. The nearest gas station to North Point is just east of Georgia 400 at exit 10 (Old Milton). There's a Shell station there next to a Waffle House. There is also a gas station west of Georgia 400 at exit 9 (Haynes Bridge Road).
If you're looking for a good place to get breakfast, I have a couple recommendations. J. Christopher's is located east of Georgia 400 at Exit 11 (Windward Parkway). You get off there and go maybe a mile or so and there will be a two level shopping center on the right. J. Christopher's is on the second level, and you'll need to drive around to the back. If you go west of Georgia 400 at Exit 11 you'll find a Cracker Barrel just past the exit, and there is also a World Famous Pancake House in the same shopping area.
***
See you at Drive!