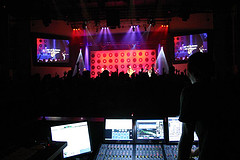 Welcome to Atlanta

7:22 09/12/06

Originally uploaded by fohdave.

After a day and a half of driving and a small detour due to care trouble, I arrived in Atlanta Tuesday night just in time to catch 7:22. It was pretty cool and very rock show like. If I was still single, I'd be there every week.
The next night was my first rehearsal at North Point. It went very smooth. I was very impressed with all the volunteers especially that mix monitors. They did a fantastic job and helped move rehearsal forward.
After the band left, I finally got to experience what I'd been missing with the Venue for the past year: Pro Tools. I will say this, DO NOT get a Venue without a Pro Tools rig. It rocks so hard! The band left and the A1 for the night, Vance, flipped the inputs over to Pro Tools to playback the run through of this week's songs he recorded at the end of rehearsal. Then Vance started to really mix. By the end of the night it was like a studio mix. Amazing. Sunday is going to rock.
The Pro Tools ability makes the Venue a fantastic investment for any house of worship because we are always short on time. With different musicians every week available only for a short amount of time, Pro Tools gives you the ability to spend some extra time getting the mix right so that when Sunday comes around the congregation gets an incredible experience. They get to focus on the content and aren't distracted by the presentation because the time has been invested in rocking the presentation.
Digidesign also announced a new control surface for the Venue this week. A Venue system using the new D-Show Profile will start around $55,000. For an expandable system with amazing features now with a smaller footprint–so you can give your trustees some seats back–this thing is an incredible investment. Personally, I'm eagerly awaiting the new software update coming later this year…