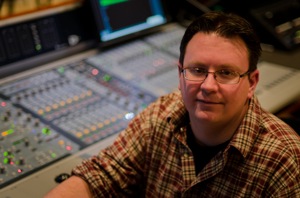 My name is Dave, and I'm an audio engineer. I got my start in high school doing sound for plays and musicals and anything else that showed up in our auditorium. After high school I went to Northwestern University to be a film major and did everything in my power to get out of audio related endeavors, but like many before me I realized that once you're in there really is no way out. So I threw myself into this audio thing. I interned at a recording studio in Chicago for six months in college where the bulk of the work was R&B and rap, and then started doing freelance audio editing before I graduated. After college I started doing mostly corporate/industrial audio for videos and training things with some spot work here and there. Eventually I moved into broadcast work where I did everything from recording audio in the field to mixing a TV show.
Now sometime after college a thing happened, and I started following this guy named Jesus who lived on earth a couple thousand years ago and gave his life so that mankind could reconnect to God. It's a pretty cool story and there's also a story of how I ended up following the guy, but that's not what this blog is about.
In about 2003 a buddy of mine lured me to one of those big megachurch things, and I kind of dug it; I was raised Catholic and it was a nice switch. This church happened to be looking for an audio engineer. To make a long story short, at some point they found out I was one and offered me a job. I took the job and started down a new road combining my passion for sound and Jesus; how often do you get to mix two of your passions in your job?
About this blog:
There are plenty of blogs on church tech and sound and whatnot where they get all spiritual about why they do things, the ministry side of it, etc. That's not what this blog is about. In fact, here are a bunch of other things this blog isn't about:
Equipment reviews…well, maybe on occasion when I'm crazy about something….
Audio basics…well, maybe on occasion….
Why "X" piece of gear is better than "Y" piece of gear
Justifying why I do what I do
Overly spiritual stuff
Country music
Why Chicago pizza is better than anywhere else in the world. That's a plain fact that doesn't need a blog.
There are some great blogs about some of these things, and I link to several of them that you should read. This blog is simply about my journey trying to make sound in a church great. You can read about my own personal philosophies on sound in churches below, and that's probably the only time you'll read about them. I started this thing because while a lot of blogs get into the why, not many seem to get into the how or what. So most of what you read here will be what I'm doing at any point in time.



My Philosophies
Here's my overly spiritual thing.

I work for a growing church (North Point Community Church). We are part of the great commision (Matthew 28:16-20). One of the ways we do things is to create environments where people can connect with God. I think there are a lot of churches that seem weird to regular people who watch movies, go to concerts, and have fun in places other than churches. I think church environments should be relevant to today's culture so that when people come in, it's not weird. God is not weird and shouldn't be perceived as weird. He created all this stuff around us. I think He's the most normal, real thing out there. I don't think He wants people to think He's weird, but some people do. I think the weirdness isn't God; it's churches that are no longer relevant to today';s culture of MTV, TLC, and game shows masked as reality TV.
To show people that God isn't weird and is actually a really creative guy–he came up with EVERYTHING–I think the church should be doing things as good if not better than those movies and TV and music and Cirque du Soleil that people spend their free time watching–I dig Cirque du Soleil by the way. God created EVERYTHING so standards are pretty high if we're going to communicate to people in a way so they get God's not weird. He's actually pretty cool. And He digs the special FX, by the way, so He's cool in my book by default; do a Google search on "Hubble deep field".
As an audio engineer, I'm trying to do my job as best as I can at a level you find in non-church environments (side note: I believe God is everywhere so there's no such thing as secular). I've worked in those non-church environments, and right now God has me in church environments so I'm giving it my all. He's pretty cool like that.
1 Corinthians 10:31

So whether you eat or drink or whatever you do, do it all for the glory of God.
Colossians 3:17

And whatever you do, whether in word or deed, do it all in the name of the Lord Jesus, giving thanks to God the Father through him.
Disclosure Statement
This website is a personal website written and edited by me, David Stagl.
I am not compensated to provide opinions on this website regarding products, services, websites, and various other topics. The views and opinions expressed on this website are purely my own.
I do not accept any form of cash advertising, sponsorship, or paid topic insertions for this website. However, I will and do accept and keep free products, services, travel, event tickets, and other forms of compensation from companies and organizations for providing services and expertise. The compensation received may influence the content, topics, or posts made in this blog. Influenced content or posts may not always be identified as sponsored content.
If I claim or appear to be an expert on a certain topic or product or service area, I will only endorse products or services that I believe, based on my expertise, are worthy of such endorsement. Any product claim, statistic, quote, or other representation about a product or service should be verified with the manufacturer or provider.
I would like to disclose the following existing relationships. These relationships may have a significant impact on the content of this blog. I am employed by North Point Community Church. The views expressed herein are mine and mine alone and do not in any way represent my employer, North Point Community Church.
To get your own policy, go to http://www.disclosurepolicy.org